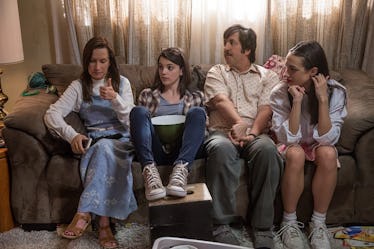 If You Love "Cringey Humor," Angela Kinsey Promises You'll Love 'Haters Back Off' Season 2 – EXCLUSIVE
Netflix
In the age of Instagram models, Vine sensations, and Snapchat artists, it's no shock YouTube star Colleen Ballinger successfully turned her character Miranda Sings into a hit Netflix series. Haters Back Off premiered on Netflix in October 2016 and delved into the quirky home life and backstory of Ballinger's Miranda. Season 2 premieres on Friday, Oct. 20 and features the same oddball cast: Miranda's sister, Emily (Francesca Reale), her Uncle Jim (Steve Little), her friend Patrick (Erik Stocklin), and her mother, Bethany (Angela Kinsey). Elite Daily had the chance to sit down with Kinsey to talk about her experience on the show, what we can expect from Season 2, and everything Mirfandas need to know about the possibility of Haters Back Off Season 3.
Kinsey is well-known for her role as Angela Martin on NBC's The Office. Angela Martin, although cold and critical, is undeniably a beloved character. Miranda's mother, Bethany, on the other hand, is a feeble people-pleaser who is desperate to keep up with Miranda's entitlement to fame. As Kinsey summarized her character, "Bethany is a mom who's lost herself in her children, kind of let herself go, but still wants to find a soulmate and be happy." She added, "Bethany and Angela Martin are shades of the same person, I feel like they could be distant cousins. Although, Angela Martin would judge Bethany, but that's her way."
Elaborating on the connections between the two shows, Kinsey said:
Haters Back Off is sort of that about notion of you don't get to pick your family and you just have to make the best of it, and I feel like The Office was like you don't get to pick your co-workers you just have to make the best of it... A lot of my Office fans like Haters Back Off as well because it's that cringey humor, like 'What is Uncle Jim going to do?' is like 'What is Michael Scott going to do?' Those kinds of moments.
The transition from a hit prime-time sitcom to a YouTube-inspired show on a streaming service is a new concept in the world of TV, and one most actors don't encounter in their careers. Kinsey detailed her experience getting involved in Haters Back Off:
I had never heard of Miranda Sings, I didn't know what that was. How I got involved is my agent sent me the script of the pilot, so I read that before I ever saw what Miranda Sings was and I just loved the pilot so much. I thought it was really well-written and really funny and weird, and those are two of my favorite things. I love comedies that are sort of cringey, when you're sort of laughing and then you're like 'I'm uncomfortable but now I'm laughing!' I just loved the world and I thought this was a cool, interesting world with these quirky people.
Kinsey's Bethany is a layered, complex character. The comedy has darker tones, like Bethany's undiagnosed disease that requires her to wear a wrist brace, seemingly for pity. At the end of Season 1, Bethany finds out her kidneys are failing, which sets an even darker tone for Season 2. However, one positive beam of light in Season 2 is the hilarious Matt Besser, who is joining the cast as Miranda's father.
Speaking on where the show picks up in Season 2, Kinsey said:
Season 1 ended really dramatically, Miranda's alone. And so Season 2 starts with her family coming back together one by one… and I mean, Matt Besser is hilarious as the dad, he's so funny and hilarious and scary all at the same time and there's gonna be some interesting new dynamics and relationship that I think people are going to enjoy and find funny.
Since the show is on Netflix, fans will be binging the show as soon as it comes out... so what's next to look forward to? Might we see a Season 3 next year? Kinsey is totally on board:
We would love a Season 3! I mean, I have a really great idea for Bethany for Season 3 that I told Colleen about, which she loves but I can't share it because it's a plot point from Season 2... Colleen has a ton of ideas too, she has Season 3 in her head already so we would love that. So, Netflix, OK do it!
Haters Back Off Season 2 hits Netflix Oct. 20, so get ready to binge, Mirfandas!