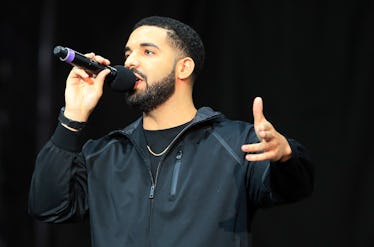 Here's When You'll Probably Hear Drake Perform 'Scorpion' Live & It's Really, Really Soon
Vaughn Ridley/Getty Images Sport/Getty Images
Now that Drake has released his highly-anticipated new album Scorpion, fans are just aching to hear Drake perform his new music live. So, will Drake go on tour after Scorpion? While it's still a bit early to tell whether Drake is planning a Scorpion specific tour, he is most definitely hitting the road this summer. So, your chances of hearing some Scorpion tracks live are actually pretty good.
Back in May 2018, Drake announced via Instagram that he would be touring a bunch of different cities alongside the rap group Migos (which includes Cardi B's husband, Offset). The tour is set to kick off on July 26 in Salt Lake City and end in Atlanta on Nov. 17.
In between those dates, Drake and Migos will be hitting places like Miami, Detroit, Philly, and New York. So, Drake fans all over the country will have the chance to see him hit the stage.
The tour will also be heading to select cities in Canada. Toronto, Vancouver, and Montreal are all on the list of tour dates Drake posted to Instagram.
Drake and the guys from Migos affectionately named the tour Aubrey & The Three Migos, which is a hilarious take on all of their names. For those of you who don't know, Aubrey is actually Drake's real name, so he's owning up to it for this tour!
Here's the tour announcement, which Drake posted on Instagram on May 14:
Drake also included some words about the tour when he announced it on his account:
AUBREY AND THE THREE MIGOS TOUR 2018 COME SEE THE HAND PICKED DREAM TEAM THE 100 HIT WONDERS THE SHAKE JOINT MAESTROS THE FIGHT FIXERS THE ATLANTA FIXTURES WITH THE BIG SIXER THE DONATELLA MARGIELA PINK STONES NO SALMONELLA INVITING ALL DOGS AND CINDERELLAS TO COME EXPERIENCE THE LONGEST REIGN NO UMBRELLAS...LIVE IN HI FI THIS SUMMER DON'T MISS OUT
Clearly, he's excited about this new tour. I mean, why else would he use all caps, right? I kid, I kid. But in all seriousness, the tour seems like it's going to be amazing.
So far, there's no word yet on a setlist or what the fans can expect from Drake and Migos. All that's known is that the tour will definitely happen and it's going to be something all their fans can look forward to.
As for all those Scorpion songs you're hoping to hear, I'd venture to guess that Drake will at least perform "God's Plan," "Nice for What," and "I'm Upset," since those have all previously been released. Plus, they're fan favorites at this point, so he kind of has to perform them on stage, right? Of course! Because the tour doesn't start until November, there will definitely be new songs from "Scorpion" that fans will know by heart and love by then.
Drake also features JAY-Z on his new album in his song called "Talk Up," so maybe fans will get a surprise special guest? Some of the lyrics JAY-Z raps are:
Yo, get close enough to HOV, smell like a kilo still/First album 26, I ain't need no deal/Already a hood legend, I ain't need no shine/First Rollie flooded out, I ain't see no time, woah/Stand-up n****s, we only duckin' indictments/Dope boys, off-white, lookin' like soft white on 'em, heh/You know what I'm sayin'?/We in the buildin', we came for a billion, ain't nobody playin'/Live every word that I'm rappin'/Said I lost 90 bricks and it happened.
JAY-Z is currently on his On The Run II tour with Beyonce, but that should be over before Drake's tour starts. I'm keeping my fingers crossed!
Drake released Scorpion on Friday, June 29. It's his fifth studio album and his first release since 2016. His last album, Views, sold over a million copies. So, to say that this new album is highly-anticipated is an understatement. Hopefully fans can enjoy all their favorite tracks when Drake goes on tour this summer.