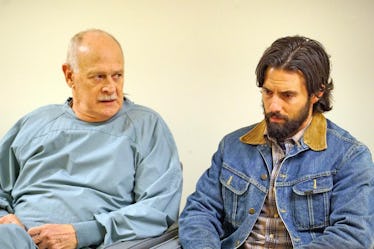 Mandy Moore Just Responded To 'This Is Us' Fans Who Are Begging To Know Dr. K's Fate
NBC
I think it's safe to say that we all wish we had a Dr. K to look after us from afar and appear when we most need a heartfelt pep talk. The This Is Us doctor helped new dad Jack cope with the loss of their third biological baby, while his hospital encounter with the Pearsons about a decade later just reiterated how morally strong he was. Dr. K's surprise appearance in "The Car" told us that not only did he survive that hospital visit, he remarried, but given the range of his time on the show, we have to know: Will Dr. K die on This Is Us?
Played by Emmy-winning actor Gerald McRaney, Dr. K returned to This Is Us with his cane and noticeable age spots in tow, paying his respects to a mourning Rebecca outside Jack's funeral reception. To her surprise, he told her how often Jack visited him over the years for fatherhood advice. (Anyone else dying for more insight into those conversations?)
Dr. K's steady belief in Rebecca ("Bull crap, bull crap") was so touching, but him appearing as such a physically fragile man got fans worried that his death was also approaching. Will this emotional massacre never end?
In an interview with Entertainment Weekly, Mandy Moore addressed the rumors of Dr. K's impending death:
I adore him and can only hope that Dan [Fogelman] figures out a way to bring him back, although I know that his character's quite old at this point in time. I don't quite know how they would finagle it — maybe he visits Rebecca and the kids one more time somehow. I want to work with him all the time... We have limited time with him [in that era]. But, you know, he could come back as a ghost, or in some sort of flashback...I don't know! He's gotta be, what, in his late 80s, early 90s? Maybe Dr. K will outlive everybody.
In addition to being a wise owl, Dr. K is definitely on the older side in 1998. When he visited his first wife's grave in Season 1, we learned that his wife Caroline was born in 1909 and died when she was 70 years old. By the time the triplets were born, Dr. K mentioned that he was 73, making his birth year either 1906 or 1907.
Apart from the glaring fact that a living Dr. K would be over 110 years old today, he would have been 90 or 91 years old at the time of Jack's death in 1998. Seeing as his health was already precarious at this point, the great likelihood is that he died only a few years after Jack, if not sooner.
If the last image fans see of Dr. K is him on that bench with Rebecca, I would be happy. Please don't burden us with another death episode, This Is Us.
Dang it, where are my tissues?
The good news is that McRaney is still alive and well, and he clearly appreciates the show and his role. Moore shared on her reunion with him for the filming of "The Car":
Man, it is such an honor to get in the ring with him. It's like going toe-to-toe with the champ of all-time. He's so stellar, and he brings it every single take, whether the camera's on him or not, and it forces you to raise your game, to try to keep up with him. He's so sweet. I hadn't seen him since he won his Emmy [for his guest-starring work on This Is Us]. He's like, 'Did you hear? I referenced you and Milo in my speech!' And he repeated back what he said in his Emmy speech, and I was so blown away!
If you haven't watched McRaney's Emmy acceptance speech, it's — no surprise — a tearjerker.
Luckily, the show's producers have mentioned that they won't return to the immediate aftermath of Jack's death anytime soon, so it looks like Dr. K's fate is off the hook for now.
This Is Us returns on Feb. 27 at 9 p.m. ET on NBC.