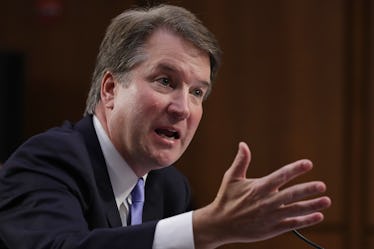 Brett Kavanaugh's Second Accuser Wants To Testify To Congress, But It's Complicated
Chip Somodevilla/Getty Images News/Getty Images
America is watching as President Donald Trump's Supreme Court pick Brett Kavanaugh inches towards confirmation by the Senate. The already drama-filled process has become all the more tumultuous with the recent surfacing of sexual assault allegations against Kavanaugh, which he has denied. While one of his two accusers is set to testify before the Senate, a second accuser, Deborah Ramirez, is more up in the air. So, will Deborah Ramirez testify against Kavanaugh? She will if given the chance.
Ramirez leveled allegations of sexual misconduct against Kavanaugh on Sept. 23, dating back to when Kavanaugh was a freshman at Yale University during the 1983-84 academic year. The New Yorker reports that Ramirez claims that while the two were at a party Kavanaugh "exposed himself" to her and "thrust his penis in her face," causing her to touch it without her consent. Kavanaugh has denied her allegations, saying "This alleged event from 35 years ago did not happen," and adding that he looks forward to "defending [his] good name," according to USA Today. Representatives for Kavanaugh did not reply to Elite Daily's request for comment.
Now, Ramirez is offering to testify in front of the Senate Judiciary Committee, but she may not be given the chance, according to her attorney John Clune. During a Sept. 26 appearance on the Today show, Clune said Ramirez is ready to give her testimony — but the committee hasn't "invited her," and they haven't been able to discuss options with the committee. He said,
She would be willing to testify, but we can't even talk to the Senate Judiciary Committee about what that would look like, and they certainly haven't invited her.
Clune told CNN that multiple attempts to set up a call with the Senate Judiciary Committee had fallen through when members either failed to show up for the call or changed the rules at the last minute. The office of Senate Judiciary Chairman Sen. Chuck Grassley did not immediately reply to Elite Daily's request for comment, including questions of whether Ramirez would testify.
When asked byToday host Savannah Guthrie if Ramirez would testify without a the Federal Bureau of Investigation (FBI) conducting a full investigation into the allegations against Kavanaugh, Clune said if asked by the Senate Judiciary Committee, she might testify regardless of any investigation. But, again, they haven't asked yet. Clune said,
That's a decision I'll certainly let her make. I would be very concerned about doing that, but it wouldn't surprise me if she would agree to do that. But we'll wait to see if she actually gets that invitation and we'll go from there.
The push for an FBI investigation into the claims against Kavanaugh has been on the table since Christine Blasey Ford, the first accuser, revealed herself on Sept. 16 to be the woman alleging Kavanaugh attempted to sexually assault her when they were both in high school in the 1980s, according to The New Yorker. Kavanaugh has denied Ford's claim, stating "this is a completely false allegation." Representatives for Kavanaugh did not reply to Elite Daily's request for comment.
Ford, unlike Ramirez, was asked to testify but initially only agreed with the caveat that the FBI first conducts a full investigation in her claims. However, under a strict deadline from Grassley to provide her decision by Saturday Sept. 22 at 2:30 p.m. ET — the original deadline was set for 10 a.m. ET Friday Sept. 21 but was extended — Ford agreed to testify come Thursday, Sept. 27. Her attorneys wrote in a letter to the Senate Judiciary Committee that Ford "accepts the Committee's request to provide her first-hand knowledge of Brett Kavanaugh's sexual misconduct next week," according to The New York Times.
Now, there are multiple women who have accused Kavanaugh of sexual misconduct. While both Ford and Ramirez share a want for a full FBI investigation, and to share their story, as it stands now only Ford will get a chance to do so publicly.