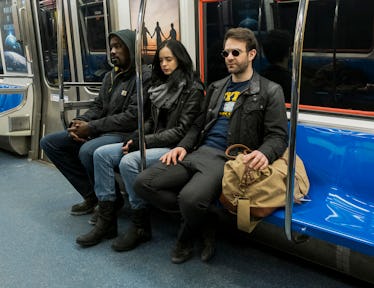 Sorry Marvel Fans, 'Daredevil' Season 3 Won't Have Any Major MCU Crossovers
Netflix
Daredevil was the show that kicked off the Netflix version of the Marvel Cinematic Universe, following the same pattern as the big screen version. A dude in a red suit who fights bad guys launched the franchise and got two installments to everyone else's single outing before the big crossover special. But with The Defenders now over, for the time being, it's been time for all the other series to catch up, with Jessica Jones, Luke Cage, and Iron Fist all premiering second seasons. Now it's the flagship show's turn again. Will Daredevil Season 3 have Marvel crossovers?
All three first seasons of the Netflix Marvel featured a crossover character: Claire Temple, nurse extraordinaire, who seemed to always be in the right place at the right time. Season 2 abandoned her across the board, with her only doing a three-episode arc in Luke Cage, who she was dating, last time fans checked. Instead, the shows did crossovers from different characters. Iron Fist's Danny Rand and Colleen Wing each put in an hour on Luke Cage Season 2. Luke Cage's Misty Knight was a principal guest in Iron Fist Season 2, appearing in half of the 10-episode run.
Meanwhile, Foggy, Matt Murdock's best friend from Daredevil, turned up in cameo appearances in two of the series. He appeared in both Jessica Jones Season 2, where he works for Jeri Hogarth, and in Luke Cage Season 2, where he represented Cage during a civil suit. And of course, Karen Page is a significant figure in both Daredevil and the series' direct spinoff, The Punisher.
Most would assume all this cross-pollination would land at least one or two cameo appearances crossing over into Daredevil Season 3. But word is, that's not happening.
According to Screen Rant, showrunner Erik Oleson wanted the new season to be a complete stand alone. As he tells it, there won't be any crossovers "of significance."
I wanted it to be standalone, I did not do crossovers this season. I wanted to really get back to these core characters and use the real estate to focus on who they are and really fleshed them out before I introduced external and other elements of the MCU, at least on the Netflix/Marvel side — I really wanted to get back to the core characters and tell a character-driven season.
That means for fans who were hoping Matt might drop a line to Danny Rand saying he can stand down from guarding Hell's Kitchen, or maybe give a tip-off to Luke Cage he can level up from Foggy for all his lawyering needs, there's only disappointment to be had. Misty Knight won't be wandering in to make a collar on any of Matt's takedowns, and Jessica Jones won't be barging in to help spy on Wilson Fisk.
But that doesn't mean the show will be completely devoid of references, or maybe a walk-on or two. After all, Oleson didn't say "no crossovers," he said "no crossovers of significance." Fans will just have to keep their eyes peeled a little wider for the easter egg moments.
Daredevil Season 3 will drop 13 episodes on Netflix on Friday, Oct. 19, 2018.