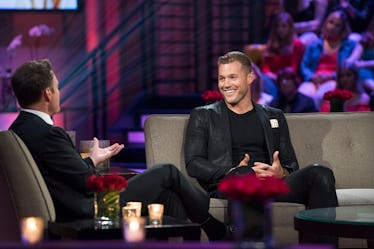 Chris Harrison Opened Up About What Fantasy Suites Will Be Like For 'Bachelor' Colton
ABC
Instead of keeping a tally of how many times a lead says "I love that," the next season of The Bachelor will inevitably have an overload of comments about Colton Underwood being a virgin. The former NFL player was vocal about his virginity on Becca Kufrin's Bachelorette season, and several years after former Bachelor Sean Lowe made headlines for being a born-again virgin, this fact about Colton takes the show into fairly new territory. Chris Harrison may have rebuffed his plea for fantasy suite advice on The Bachelorette, but will Colton have fantasy suites on The Bachelor? The franchise host shared details about how that pivotal stage of the season may go.
In addition to telling Becca he was a virgin on The Bachelorette, Colton also opened up about having to "fake it" when working in NFL locker rooms and heavily male environments. He essentially admitted to participating in locker room talk to fit in, and although a lot less sex reportedly happens on fantasy suite dates than you may think, the pressure of possibly being there with Becca still drove Colton to ask Chris for guidance. Chris awkwardly delivered a gist of doing whatever felt right, and while he didn't make it to fantasy suite dates on The Bachelorette, Colton might have to sit down with Chris for more uncomfortable talks on his own Bachelorette season.
Speaking to Entertainment Tonight, Chris initially joked about giving Colton the birds and the bees talk, but he then admitted that the topic was unavoidable, saying:
...It's part of the storyline, the fact that Colton's a virgin, clearly. How will the women react to that? How is he going to handle that? It's something that he's obviously dealt with his entire life and he got emotional about it. About when he was in the NFL and having to fake it. So, we are going to deal with that. We'll dive into that.
Get ready, Bachelor fans — we're getting fantasy suite footage no matter what happens.
ABC's decision to cast Colton as the next Bachelor was met with plenty of controversy. Compared to Bachelorette fan favorites Jason Tartick and Blake Horstmann, Colton was an afterthought, and his stint on Bachelor in Paradise didn't put him in the most appealing light. As the 26-year-old first hit the public eye when he asked out Olympic gymnast Aly Raisman in a viral video and then briefly dated Tia Booth after her Bachelor stint, some Bachelor Nation members have called Colton insincere. When Bachelor alum Raven Gates crashed Tia and Colton's Paradise date, she even insinuated that Colton was just interested in Tia because she was in the spotlight.
While Chris is obviously going to stand by the network's choice, he isn't too sure about the likelihood of Colton being ready to find a wife, telling ET, "That's the whole point of the show. Maybe at the end of it, he's not, and it's a complete disaster. That's the way it goes, that's life."
So, will Colton be a Sean Lowe 2.0 and have a sweet, low-key romance with his future wife on The Bachelor? If not, there's always the possibility of him stumbling down the ill-fated paths of Bachelors like Arie Luyendyk and Juan Pablo Galavis. For the sake of anyone still recovering from Arie's Bachelor switcheroo, let's hope that Colton's season goes smoothly.
Season 23 of The Bachelor premieres in January 2019 on ABC.