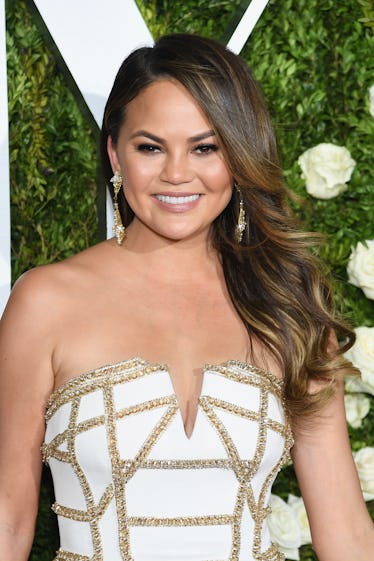 Chrissy Teigen Just Said She'd Be Willing To Join 'Real Housewives' Under One Condition
Dimitrios Kambouris/Getty Images Entertainment/Getty Images
Chrissy Teigen is all about the comedy. But is she all about the drama as well? The 32-year-old entrepreneur sparked some intrigue on Wednesday, Aug. 22, when she tweeted that she'd consider a stint on reality TV... as a housewife. And you know what that means, right? Real Housewives! So, will Chrissy Teigen be on Real Housewives? The mom, model, and cookbook queen has one stipulation before she would ever consider saying yes.
"I will do housewives if I can have it in my contract i don't have to do reunions," Teigen said on Twitter. "I think it would be a three part series of me crying and I can't wear a ballgown on a couch for 12 hours."
Brielle Biermann, who stars on Real Housewives of Atlanta, commented on the post, "Which housewives would you want to join though…?"
While Teigen didn't answer Biermann, I'd guess that she would probably vie for a spot on Real Housewives of Beverly Hills since she already lives pretty close by. In any case, this isn't the first time Teigen has expressed her love for reality TV. In early July, Teigen tweeted out an invitation to the casts of Vanderpump Rules and Real Housewives of Beverly Hills asking if they'd be down to go to her Malibu Beach party.
"Does anyone from the cast of Vanderpump Rules or Beverly Hills Housewives wanna come to my Malibu beach party tomorrow??? DM ME," Teigen wrote in a tweet. "@jenatkinhair is having a competing party but mine is on the beach with alcohol and food made of gold."
So, she definitely seems to be putting her feelers out there and testing the waters when it comes to the reality TV world.
She'd actually be a great addition to any reality TV show that's currently on air. Not only is she super attuned to social media and everything going on in the world right now, but she's downright hilarious and definitely not afraid to laugh at herself.
Case in point: Teigen recently tweeted about an unfortunate incident that happened at her kids' school. Apparently, Teigen puked at her daughter Luna's school orientation and then took to Twitter to apologize for making everyone uncomfortable.
"hello everyone from Luna's school orientation today," Teigen tweeted. "im sorry I projectile puked caffeine upon arrival, couldn't open my eyes and had the noisiest newborn in the room. (not a joke, very sorry, see you tomorrow)."
The tweet drew lots of attention from moms and dads everywhere who could feel Teigen's pain.
"Great seeing you there! The struggle is real and we've all been through it," one person responded. "You and @johnlegend are awesome parents and handled it respectfully. Hope Luna has a great school year!"
If Teigen can spice up reality TV with her own brand of comedy as well as her mommy woes, then whichever show she happens to be on would be lucky to have her. She's a great personality for sure and I'd bet so many of her fans would kill for her to have her own show. Here's hoping it happens one day!