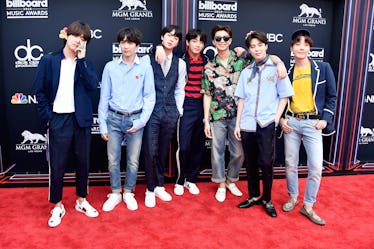 Here's How To Get Tickets To The BTS Movie If You Live In The United States
Frazer Harrison/Getty Images Entertainment/Getty Images
Ready to see all the BTS guys on the big screen? Then you'll have to do your due diligence to score some tickets. The band's first movie Burn the Stage: The Movie hits theaters on Nov. 15 and BTS fans all over the world are waiting with bated breath for that date to roll around. Since BTS is such a global phenomenon, Burn the Stage will understandably be playing in a slew of different countries. But will Burn the Stage come out in the U.S.? The answer to that question is really simple: yes!
Like many other places around the world, the United States will welcome Burn the Stage to theaters on Nov. 15. But keep in mind that screenings are limited, so not every theater in your area may have tickets available for sale. To find out which theaters in your area are screening the film, you can visit the official Burn the Stage website at us.burnthestagethemovie.com. The site lets you view a map of your area where theaters playing the film are already highlighted for you. You can also search surrounding areas for participating theaters.
And on top of that, you can also buy your tickets right through the website. Simply click on the "Get Tickets" button on your theater of choice and you'll be directed to your theater's official site to purchase. Since it's still a few weeks out from the release date, you may find that some theaters are not offering tickets just yet. But don't stop trying! With so many BTS fans out there, you don't want to miss your chance to see the guys on the big screen.
And if you happen to be outside the U.S. while the film is in theaters, don't worry! Burn the Stage will be playing almost everywhere.
In addition to playing in the United States, an official BTS press release lists the following territories as places where BTS fans can score tickets: Albania, Argentina, Australia, Austria, Belgium, Brazil, Brunei, Canada, Chile, Colombia, Costa Rica, Croatia, Denmark, Dubai, Ecuador, El Salvador, Finland, France, Germany, Greece, Guatemala, Honduras, Hong Kong, India, Indonesia, Ireland, Iraq, Lithuania, Luxembourg, Macedonia, Malaysia, Mexico, The Netherlands, New Zealand, Nicaragua, Norway, Panama, Peru, Philippines, Portugal, Puerto Rico, Serbia, Singapore, Spain, Sweden, Switzerland, Thailand, the United Kingdom, Uruguay, and Vietnam. More countries will be added to this list sometime in the future.
Needless to say, you'll have ample opportunity to see the film no matter where in the world you are when it hits theaters!
Burn the Stage: The Movie will give fans an unprecedented glimpse into what goes on behind the scenes during a world tour. The movie will follow BTS during their Live Trilogy Episode III: The Wings tour, so pretty much everything you'll see in it is from 2017. The film is also said to feature interviews with each member of BTS.
Basically, you're going to get an all-access look at how hard BTS works to bring all that great music your way. So, be sure to get your tickets ASAP.