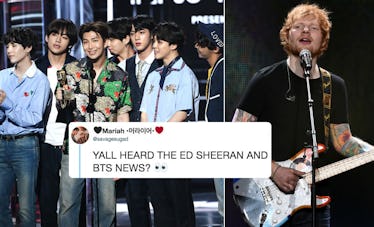 Ed Sheeran Just Confirmed He Wrote A Song For BTS, So ARMYs Are Completely Freaking Out
Kevin Winter/Getty Images; Kevin Winter/Getty Images
What a time to be ARMY, amirite?! I mean, it's always been a pleasure being a BTS stan, but 2018 has just been next-level amazing. Jungkook, Jimin, V, RM, Suga, Jin, and J-Hope have long been superstars on the international music scene, but just managed to go where no K-Pop band has before, catapulting to the forefront of the music scene in the United States with their unique singles like "DNA," "Fake Love," and now "Idol." They had some epic collaborations along the way, like the aforementioned "MIC Drop" with Steve Aoki and Desiigner and, more recently, their first English single with Aoki, "Waste It On Me." The question is, do the boys have any more collaborations in the works? Let me be more specific: Will BTS and Ed Sheeran collaborate on a song?
Look, as random as that question seems, it's really not random at all. Ed Sheeran is, like, a boy-band whisperer. He wrote all three of your favorite One Direction ballads: "Little Things," "18," and "Moments". So, Sheeran knows his way around a hit song fit for a boy band.
Well, the answer to this question is YES... well, possibly. Ed Sheeran sat down for an interview with Heat World and teased that a collaboration with BTS could be on the way.
During his interview, Sheeran pulled questions from fans on Twitter out of a box and answered them. When one fan wrote, "I want BTS x Ed Sheeran but when will they ever," he had this to say in response: "I actually wrote a song that I think they might be messing with. I heard this the other day."
Excuse me, did I read that correctly? Ed Sheeran, the lyrical god behind hits like "Perfect," "Shape of You," and "Thinking Out Loud," wrote a song that BTS is "messing with"?
Yup. That's right. And if you don't believe me, check out Sheeran revealing this tidbit of musical goodness below:
But let's not get ahead of ourselves, ARMY. From the looks of things, whether we'll ever actually get to hear this BTS/Ed Sheeran collab sounds pretty up in the air.
Sheeran made sure to follow up his answer with this: "I don't know. I really like BTS though, I think they're great." That makes it sound like BTS could scrap Sheeran's song at any moment.
But, like, how could they now that ARMY is emotionally invested in this collab blessing their ears (read: I am emotionally invested). Just check out Twitter's reaction to Sheeran's revelation:
Can you really blame ARMY for being excited at the mere prospect of a BTS x Ed Sheeran collab? The boys already proved they know their way around an Ed Sheeran bop. Remember when they broke out into their unique rendition of "Shape of You" during their interview with 104.3 myFM? No? Fast forward to 2:47 below to watch magic happen.
Well, boys, Ed Sheeran has gone and put y'all in a pretty awkward position, because I'm pretty sure you HAVE to release this track now. I see no other feasible option.