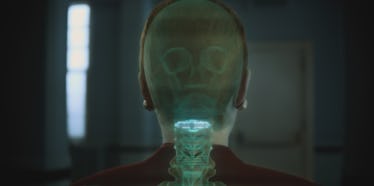 Here's Everything We Know About The Possible 'Altered Carbon' Season 2
Netflix
Altered Carbon was Netflix's big release for February. The hype started back in December, with a full week of promotional articles on Entertainment Weekly. Marketing followed up with a faux display at the 2018 Consumer Electronic Show in Vegas. The ten episodes dropped to massive fanfare the Friday before the Super Bowl. But was it a big enough hit? Will Altered Carbon Season 2 happen? And if so, how will the show handle the fact that Joel Kinnaman has been cast in another production?
The good news is, Kinnaman's exit was planned ahead. The actor, who plays the body that Takeshi Kovacs is sleeved into upon his awakening 250 years in the future, was only ever contracted for the one season. That's because, in the books, once Kovacs has his freedom, he turns in that body, so the original owner can be sleeved back into it. He then takes on a new one of his own choosing, instead of one someone picked for him.
According to showrunner Laeta Kalogridis, the show is planning to follow the books accordingly if the show gets picked up for a Season 2. In fact, they're planning to stick to the books pretty faithfully, which means there are big changes in store for Season 2.
But first: Netflix has to greenlight it. Which, considering the price tag and their newfound hesitation to just hand out second seasons willy-nilly, is not a sure thing for Altered Carbon. This isn't just for new shows, either. Netflix took two months to agree to a Season 3 for Stranger Things, which is far and away their biggest hit. But as Kalogridis told Entertainment Weekly, the next book in the Kovacs series, Broken Angels, would be even more expensive to do than this one.
That's a very expensive book! With space battles and giant portals and huge warships that are orbiting the planet and a thermonuclear explosion. Richard came and worked with us in the writers' room for a couple weeks to try and hammer out a story that was able to use elements of the second book without creating the vastness that is the second book.
Like with Game of Thrones, the first season has already made some changes, which will necessitate further changes down the line. Quellcrist, for instance, will now have to be part of the second story, though she doesn't appear in the second book.
[W]e... conflated some elements from the third book — like bring Quell (Renee Elise Goldsberry) into the story earlier — that also altered the structure significantly. So now you have this character who wasn't in the second book and I hope if we've done our job people will be very invested in this love story. So that becomes very much a part of what we're doing.
Kalogridis also doesn't discount the return of the now-dead Reileen, Kovacs' sister, either in flashbacks or memories. But following the structure of the novels will mean leaving Ryker and Ortega, Lizzie's whole family, and Bay City behind, in favor of jumping ahead 30 years.
The idea was to mimic what the books do, which is to go from planet to planet and not stay in the same city. So the intent would not be to return to Bay City for the second season. Part of what I love about the books is the degree to which they hold up a mirror to the idea of faster-than-light travel by entangled consciousness downloading. That's what needlecasting would be; you're re-creating a consciousness far faster than the speed of light on another planet — and that's just too cool not to do something with.
But first, Netflix needs to say yes. Then, as Kalogridis says: "I don't know how people will feel about the plan, but we do have one!" I just hope we get to see it.