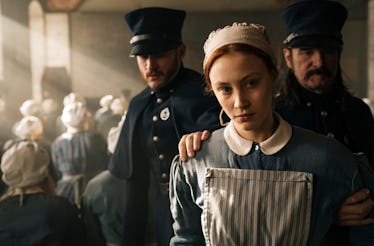 Could 'Alias Grace' Season 2 Happen? Here's What We Know About The New Margaret Atwood Show
Jan Thijs/Netflix
Alias Grace, brought to American audiences through Netflix, is already garnering a lot of buzz and critical acclaim. The adaptation of Margaret Atwood's 1996 best selling historical crime novel only started streaming on Friday Nov. 3, but people are already wondering: Will Alias Grace Season 2 happen? It's labeled as a miniseries, so the answer is unclear.
Alias Grace is inspired by the 19th-century true story of the Irish immigrant Grace Marks (played by Sarah Gadon), who was sentenced to life in prison following her conviction in the murder of her employer, Thomas Kinnear, as well as his housekeeper, Nancy Montgomery. Grace was tried along with another servant of Kinnear's, James McDermott, who was ultimately sent to the gallows for his crimes. Marks was sentenced to life in prison. The book and series employ a fictional doctor named Simon Jordan, whose conversations with Grace allow her to chronicle her complex tale of madness, manipulation, and memory loss. The six-episode series explores many of the source material's interwoven themes of class, gender societal roles, and mental illness and seems as though it paints a relatively complete picture of the story's layered arcs. Of course, we wonder if the entertainment powers that be will decide to green light more.
In the tradition of the miniseries, life after one installment doesn't typically exist. But maybe there's a chance? HBO's Big Little Lies was originally planned to be a one-season miniseries event, but its massive success opened the door for discussions about continuing the story, despite the immensely satisfying finale. Ryan Murphy has perfected the art of the ongoing, ever-changing miniseries with anthologies like American Horror Story and American Crime Story, although those clearly introduce new subjects and actors with each version to keep things interesting. BBC and AMC's Hugh Laurie spy vehicle, The Night Manager, is an example of a miniseries that has a second season in the works. The Handmaid's Tale, Hulu's critical darling and Emmy winner was renewed for a longer second season in May. But that Margaret Atwood adaptation did intend to go deeper beyond the novel from the beginning, and was billed as a TV drama. "They have nothing to do with each other tonally, aesthetically, thematically, visually," says Alias Grace writer Sarah Polley, of the series' inevitable comparisons.
Sarah Polley read the novel at 17 and attempted to option the rights to it back then because of its profound influence on her, yet it took years to get the project off the ground. "Both Sarah and I are interested in what is true and what is not true. I think she liked that a lot of my films have characters crossed with madness. And she knew I wouldn't try to make 'Downton Abbey.' I didn't want to prettify but to really show a brutal, ruthless, class-driven society," director Mary Harron (American Psycho, I Shot Andy Warhol) explained to the New York Times of their shared creative approach.
"Alias Grace is a very radical interpretation of the 19th-century country house culture," Harron has also said. "You don't often see the perspective of the lives of servants and immigrants from a political or a female point of view."
Perhaps further exploration of this culture and similar viewpoints from female subjects and/or narrators of the past could be an interesting offshoot even if we've closed the book on the intriguing tale of Grace Marks. While it seems somewhat unlikely at this time that Alias Grace will get the multiple season treatment moving forward, there are always more thought-provoking stories to uncover and tell. And if you're wondering, Margaret Atwood has written over a dozen novels.... Your move, Hollywood.