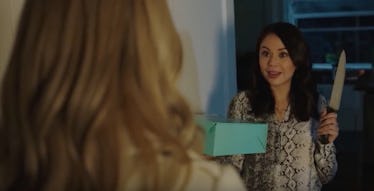 These Spoilers About The "Pretty Little Liars" Spinoff Reveal Will Get You So Pumped
Freeform/YouTube
It's been almost a year since Pretty Little Liars said goodbye, but thankfully its void is about to filled. The Perfectionists, a spinoff of the popular Freeform thriller based on the Sara Shepard novel of the same name, is set to debut next year. Details about the show continue to trickle in and it sounds like fans of the original won't be disappointed, especially if they're hoping to resolve some burning PLL questions. Will Alex and Mary Drake be in The Perfectionists? Prepare for answers courtesy of the new series.
The Perfectionists takes place two years after the Pretty Little Liars finale and follows Alison as she gets a fresh start in Beacon Heights, Oregon as a faculty member of the town's university. But she's not alone. Mona's there too (weilding a knife, no less), which is a shocking turn of events. While Mona and Alison continue their post-PLL adventures in unchartered territory, they're faced with more mysteries. This college town isn't what it seems and neither are its "perfect" students — prepare for skeleton-filled closets and plenty of creepy twists and turns.
With Mona in the mix, you know things are gonna get... well, weird.
"You never really know whether you can trust her or not, and that continues to be her truth in this new story," creator Marlene King teased to ET about Janel Parrish's character.
And speaking of Mona, what's the deal with her life-size Parisian dollhouse these days? Alex (aka Spencer's identical twin) and Mary Drake's fate was left hanging in the balance in the series finale, but it looks like viewers will get an update on those, er, eerie captive living dolls soon enough.
"You definitely will get that answer in a very cheeky Mona way," King also revealed.
If you're wondering about other PLL faces — yes, Emily and Alison's babies will be on The Perfectionists. And perhaps more OG Liars will be making appearances as well.
"They're always welcome. We would always want to find a place for them. I think there's just such a seamless sort of transition to this new show that it's always possible for people to just come in and sort of drop in and visit us," King explained.
Shay Mitchell, who played Emily on PLL, hasn't confirmed her involvement in the spinoff, though she has "spoken" with King about it.
"At the end of the day, regardless of whether I'm on it or not, I will 100-percent support the show and be a fan of it myself. But we're all just doing so many different things right now, so it's hard to commit to something like that," Mitchell told TVLine last year.
Lucy Hale's CW series Life Sentence was recently canceled after one season, so will Aria pop in?
"That show was such a big part of my life," Hale said last month, when asked if she'll be making a cameo. "It opened up a million doors. I would be an idiot not to keep going back to it. I have a special place in my heart. So yeah, I wouldn't rule it out."
Sasha Pieterse (Alison) is already filling audiences in onThe Perfectionists' tone compared to Pretty Little Liars. The actress told ET, "It's definitely darker than how our first season of PLL was. I feel like it picks up from PLL kind of seamlessly, there's a two-year gap, yeah, and it just.. it will be darker, let me put it that way."
But the good news is, PLL superfans need not apply. Although they'll probably appreciate the nods and references.
"You don't have to have watched Pretty Little Liars to enjoy The Perfectionists, but you'll find a lot of Easter eggs in the new show if you do," Marlene King clarified.
Ready to get settled in Beacon Heights? The Perfectionists comes to Freeform in 2019.