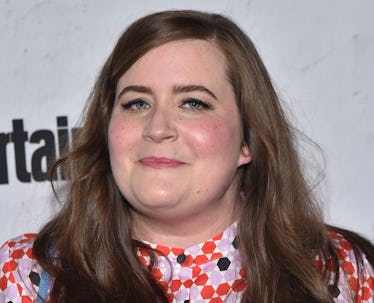 Aidy Bryant Has A New Hulu Show Coming, But 'SNL' Fans Have One Question
Mike Coppola/Getty Images Entertainment/Getty Images
You know someone has reached the peak of a Saturday Night Live career when they land their own comedy series, and soon after scoring her first Emmy nomination for her work on SNL, Aidy Bryant has unlocked that achievement. Hulu has officially picked up her comedy Shrill for a six-episode season, and while production starts essentially ASAP, Bryant's fans have a big question about her status at 30 Rock this year. Will Aidy Bryant be on SNL Season 44? The two shows thankfully won't conflict with each other.
The Hollywood Reporter writes that production of Shrill, based on blogger Lindy West's memoir Shrill: Notes From a Loud Woman, begins this week in Portland, Oregon. Bryant plays Annie, a heavy-set woman who wants to change her life but not her body. While the world labels her as "not good enough" because of her weight, she's inspired to believe that she is good enough and deserves to make the best of things for herself. The series follows Annie's attempts to become a journalist while balancing the dating world, sick parents, and a perfectionist boss. For anyone who caught Bryant in recent movies like I Feel Pretty and The Big Sick, Shrill sounds like the ideal acting outlet for Bryant to showcase both her comedic chops and serious side.
Six episodes are set to begin filming under the watchful eye of executive producers Elizabeth Banks and SNL creator Lorne Michaels, so unless the series continues past one season, it looks like Bryant has Michaels' blessing to venture outside the SNL bubble. Reports about the new show have confirmed that Shrill won't impact Bryant's status with SNL, where she has been a cast member since 2012, and Bryant even shared a message on Instagram announcing that she would still return to SNL in the fall. The sketch comedy show has yet to announce a Season 44 premiere date, but a new season usually begins in late September or early October.
More to come but this is a dream come true and I love you! Ps don't worry! I'm still returning to my beloved @nbcsnl
Bryant joins a Shrill cast that includes Lolly Adefope as Annie's best friend Fran, Luka Jones as her boyfriend Ryan, Ian Owens as Annie's co-worker Amadi, and John Cameron Mitchell as their boss. West, who will adapt her book and co-write the pilot's story and teleplay alongside Bryant and Alexandra Rushfield, addressed the series news on her own Instagram, sharing Bryant's original photo collage and writing:
For everyone who's asked me why I haven't written a @nytimes column in a few months, here's why! On hiatus while I live this literal lifelong dream with this dream cast and dream writers and dream crew. Can't wait for you all to see it.
West has also written pieces for the New York Times and The Guardian, where she documented her time at the 2018 Oscars. Well, if Shrill finds it niche and wins some critical acclaim, it looks like West will have to get used to even more award show glory. Although talks of a Shrill TV series must have been ongoing at the time, West's Oscars article ends with a particularly fitting excerpt that also seems to capture the message of Shrill. She wrote:
If there is one thing the past seven months has taught us, it's that our world is pliable. Our dreams are pliable. We don't have to fill our dreams with thin, beautiful, straight, cis, white people just because those are the things our culture has conditioned us to value.
I'm so ready for Shrill's message of acceptance and self-love, but until then, it's good to know that Bryant will still pop up on SNL to make us laugh.