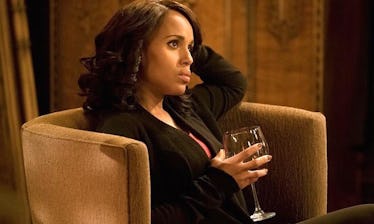 Here Are The Chances Of A 'Scandal' Spinoff, If You're Still Upset Over The Finale
ABC
If your Thursdays are feeling a little less special these days after Scandal's series finale on April 19, you're probably already crossing your fingers for some sort of reboot or revival situation that would bring the show back into your life. Don't expect to see more of America's favorite small screen D.C. fixer again any time soon, because new Scandal-ous TV is over. For now, at least. Will a Scandal spinoff happen? Unfortunately, the answer at the moment creates a problem that even Olivia Pope can't handle.
"Scandal is done," creator Shonda Rhimes revealed to reporters ahead of the show's finale.
"I felt we were coming to our end is because we've told the stories I wanted to tell. We've told the canon of Olivia Pope in the way that I wanted to tell it. So I don't feel like we have stories that we didn't get to tell that I wanted to tell," she added, regarding plot lines that might not have made it on screen.
Sorry, Gladiators. It's true — Olivia Pope has been through a lot throughout the political drama's run. If fans are lucky, maybe the show will be granted a reunion in the future? You never know what could happen in TV land, considering it's obvious that viewers want to keep that popcorn popping and the red wine flowing.
So, if there are no plans to spin Scandal off, then what about a movie? Bellamy Young, aka Mellie Grant, is up for it. "We're all just like, 'Scandal: The Movie, Scandal: The Movie, Scandal: The Movie.' But, you know, we tried also for Scandal: The Musical, and that didn't happen. So we'll see!" the actress said on Steve Harvey's talk show back in March. She might be dreaming like the rest of Scandal's loyal watchers, but it's good to know a key player is down to keep things going in some way.
Scandal's end coincides with Shonda Rhimes' move to Netflix from ABC — the show runner extraordinaire signed a multi-production deal with the streaming service last year. Rhimes is also the genius behind Grey's Anatomy, How to Get Away With Murder, and more ABC hits, but now she's in a position to forge a different creative path at a new home. Rhimes said of the change:
There is a brand that people assume that I am, and the kinds of stories that I can tell, and they have nothing to do with me as a writer, but simply have to do with the fact that we were on ABC… I'm excited to tell other stories. I'm excited to tell stories in different ways. I'm excited to be able to just do things in a different way. It's just time.
Rhimes' departure only makes the chance of more Scandal less of a possibility. Do we really want somebody else to mess with its legacy after the fact?
"I don't know if Scandal would be Scandal without Shonda," ABC president Channing Dungey stated in January on the odds of resurrecting the series. "It's so wrapped up in her DNA… I guess anything's theoretically possible." While that response sounds more promising, it's hard to not dwell on Shonda's more definitive resolution.
Shonda has also touched on the potential of further bringing Scandal's characters into the How to Get Away With Murder universe:
Whether or not it's mentioned is up to [creator] Pete [Nowalk]. That's his show and his storytelling. So I don't know if he's ever going to mention it. It's not a plan that either one of us have ... Neither one of us have that in our heads as part of a plan. So thus far, no.
No matter what happens, Scandal's influential impact on television is undeniable. If you're feeling sentimental already, there's always Netflix to relive the magic.