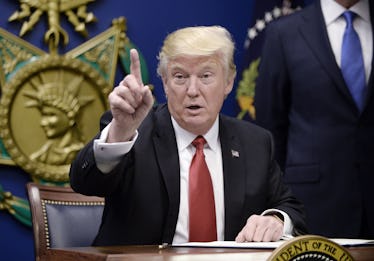 Twitter Explained Why It Didn't Suspend Trump For Threatening Nuclear War
Pool/Getty Images News/Getty Images
On Tuesday night, Jan. 2, Twitter found itself fielding widely shared, honest-to-God complaints suggesting the social media network should revoke access from the President of the United States. The complaints were made after President Donald Trump tweeted a response to Kim Jong-un that bragged about a "nuclear button," addressing the North Korea dictator with what was received as a threat of nuclear war. The site took the complaints so seriously that it publicly addressed why Donald Trump wasn't suspended from Twitter for his "nuclear button" tweet.
A Twitter spokesperson said that Trump's tweet wasn't considered a "specific threat" against any party, which means the president didn't violate the platform's terms of service, according to Business Insider, which says it received a statement.
Elite Daily has also reached out to Twitter for comment on the subject. At the time of writing, there has been no response.
What Exactly Did Trump Say?
Trump's "nuclear button" tweet on Tuesday, Jan. 2, was a response to reports about North Korea that broke during New Year's weekend. The reports described a televised address that "supreme leader" Kim Jong-un made. During the address, the North Korean autocrat reportedly said, "The entire United States is within range of our nuclear weapons, and a nuclear button is always on my desk. This is reality, not a threat."
Kim also added, "This year we should focus on mass producing nuclear warheads and ballistic missiles for operational deployment. These weapons will be used only if our security is threatened."
In turn, President Trump took to Twitter on Tuesday night, posting a response that would be shared over 100,000 times and "liked" over hundreds of thousands of times more.
"North Korean Leader Kim Jong Un just stated that the 'Nuclear Button is on his desk at all times.' Will someone from his depleted and food starved regime please inform him that I too have a Nuclear Button, but it is a much bigger & more powerful one than his, and my Button works!" the president tweeted.
Why Were People Calling For Trump To Get Suspended?
Whether people were trolling or making genuine complaints, one thing's for sure: Twitter had already set a precedent indicating it was willing to suspend individual accounts that made threats to others.
In December, the company announced a policy by which those threats would be judged. The policy says,
You may not make specific threats of violence or wish for the serious physical harm, death, or disease of an individual or group of people. This includes, but is not limited to, threatening or promoting terrorism. You also may not affiliate with organizations that — whether by their own statements or activity both on and off the platform — use or promote violence against civilians to further their causes.
Earlier on Tuesday, CNN reported that Sheriff David Clarke, a consistent Fox News guest and Trump supporter, was suspended temporarily after posting a tweet aimed at the "LYING LIB MEDIA," which included the words "Punch them in the nose & MAKE THEM TASTE THEIR OWN BLOOD."
The tweet prompted users to complain to Twitter and its CEO, Jack Dorsey. Clarke would ultimately have his account locked momentarily. On Tuesday, users were prompted into making similar complaints after Trump's tweet about North Korea. The president, of course, did not have his account locked, and instead moved on to tweeting about something else.
"I will be announcing THE MOST DISHONEST & CORRUPT MEDIA AWARDS OF THE YEAR on Monday at 5:00 o'clock. Subjects will cover Dishonesty & Bad Reporting in various categories from the Fake News Media. Stay tuned!" the president said, in a tweet after address Kim Jong-un.
So yeah, 2018 is off to a super normal start.