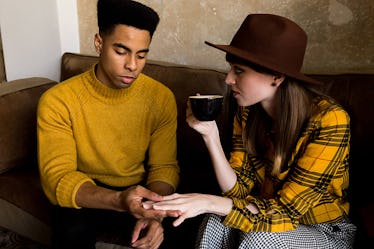 11 People On Why They Stayed In Unhappy Relationships, Because Nothing Is Ever As It Seems
Every relationship has highs and lows. Nobody's bond is 100 percent perfect all the time; a little dash of conflict and boredom is totally normal. But it's hard to tell exactly how much you should put up with before you leave. The reasons why people stay in unhappy relationships vary. You may simply be comfortable with your partner and your relationship, without genuinely being happy with them. Or maybe there's something tying you two together, like a child or a rental agreement, that can keep you from being able to act just based on your feelings.
My ex and I were together for two and a half years, and a few months into our relationship, I had already started having mild doubts about whether or not I really wanted to be with him. He did everything right, but my heart just wasn't in it. My feelings for him fluctuated throughout our entire relationship. Sometimes I was all in, and other times I was just in. We were together, and it was nice, but looking back now, I don't know if I was unfalteringly happy. He was my best friend, and I loved being with him. But if I was truly happy in our relationship, I wouldn't have had doubts about it as often as I did, and I wouldn't have developed feelings for someone else, like I did.
Relationships aren't as black and white as we'd wish sometimes, but that's a part of life. I stayed with my ex because he was good to me, he meant a lot to me, and we had a lot of great times together. I put off ending things because I didn't want to hurt him, especially if there wasn't anything particularly wrong with the relationship. Those were my reasons to stay, and here are 11 Reddit users' reasons, too.