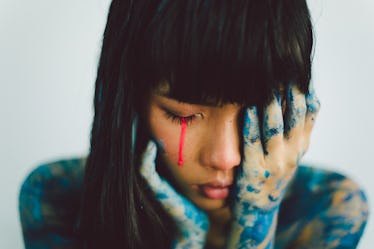 6 Reasons Why Getting Over A Toxic Ex Can Be The Hardest, According To Experts
Breakups are never easy. Even when you're ready to end things and move on, there is an inevitable post-split mourning period. But not all breakups are created equal. Some leave you with a minor sense of loss and the pain passes relatively quickly, so you're ready to get back out there soon after. Then there are the epic breakups — the ones that feel impossible to recover from. Sometimes it's because you truly loved the person you were with and believed that you would be together forever, but exes who hurt you are hard to get over, too. In fact, the latter may actually be even more difficult.
But why is getting over someone who hurt you so hard? It makes sense that breaking things off with someone you thought you would spend your life with would be hard to get over, but shouldn't you just be relieved to have someone so toxic out of your life? Sure, that sounds logical, but unfortunately the heart is rarely all that concerned with logic. It's complicated. To help clear some of that up and finally answer why breaking up with a toxic partner can be so especially brutal, Elite Daily reached out to the experts. Here is what they had to say.