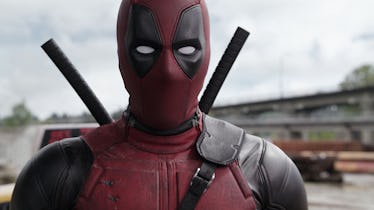 Ryan Reynolds Hilariously Trolled The Avengers On Twitter & 'Deadpool' Fans Will LOL
Joe Lederer/Twentieth Century Fox Film Corporation
I'm not a huge Marvel fan, but I absolutely love Deadpool (and obviously Ryan Reynolds). His whole irreverent superhero thing really does it for me, especially because I would take a Kardashian fight over an Avengers one any day. Deadpool is kind of an auxiliary Marvel hero, but he's still part of the universe, so I was a little surprised to learn that Reynolds' sassy anti-hero isn't in the newest movie. Why isn't Deadpool in Avengers? Take your grievances to Tony Stark, because according to Reynolds, Iron Man himself is to blame.
On Sunday, Reynolds took to Twitter to congratulate his fellow Marvel superheroes on a job well done, but in true Deadpool form, he threw more than a little shade their way, as well. "From a guy who never knows when to quit, I'm glad you guys never did. Congrats Avengers," wrote Reynolds. Seems innocent, right? If you think Deadpool would resist a chance to troll the Avengers, you'd be very, very wrong. Along with the message, Reynolds posted a photo of an Avengers rejection letter signed by Tony Stark, indicating that Deadpool was definitely interested in joining the team, but was very promptly denied. Iron Man, how could you? Sure, Chris Pratt's Star-Lord is a funny guy, but he's nothing next to Deadpool. Amid all that drama, Avengers: Infinity War could use another hilarious hero.
The worst part about all this is that Tony Stark didn't even think about letting Deadpool into the Avengers. "No. Absolutely not. Go bother Prof. X. No," wrote Stark. OK, Deadpool may be a little kooky, but he's still a badass superhero who has plenty to bring to the team. Plus, you know he would team up with Black Panther's Shuri to play hilarious pranks on the rest of the Avengers during their down time (is there down time when you're fighting the most evil villain in the universe? Like I said, I'm not a big Marvel person).
Of course, all of this is an elaborate joke set up by Reynolds, who is just as hilarious as his character. The real reason that Deadpool can't be in Avengers: Infinity War or any of the other Avengers films is much less interesting: Deadpool's appearance is restricted by licensing rights. Years ago, Marvel sold the on-screen rights for some of its characters to various production studios, including Universal, Sony, and 20th Century Fox. When Disney bought Marvel in 2009, it assumed the rights for most Marvel characters (i.e. all the Avengers, plus a few others), but not the ones that were sold to other studios — including Deadpool, who belongs to Fox. Unless Fox and Disney collaborate on a new Marvel film, these complicated licensing regulations prevent Deadpool from joining his Avenger pals. Instead, Deadpool will have to continue making solo movies, like Deadpool 2 (and maybe Deadpool 3 and 4).
However, there is a small sliver of hope for fans who are desperate to see Deadpool kick some Thanos butt. In December 2017, Disney bought the majority of Fox's movie and TV assets, including 20th Century Fox, the company that owns Deadpool's rights. This deal is still months away from being finalized, but once it's done, Disney will own the rights to Deadpool, and he'll be able to appear in Marvel films with other superheroes — should Tony Stark allow him.
It will likely be years before we see a potential Deadpool-Avengers collab, so in the meantime, why not get your tickets for Deadpool 2? Avengers: Infinity War made $640.9 million in its opening weekend, setting a record for the biggest box office opening ever, so you know Deadpool will want to set an even higher record and beat his frenemies.
Deadpool 2 premieres on May 18, 2018, and Avengers: Infinity War is currently in theaters.