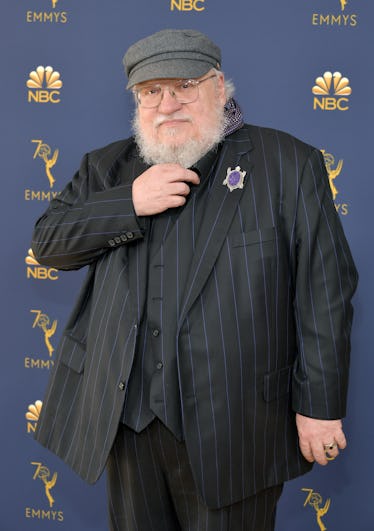 George R. R. Martin Revealed The Hilarious Reason They're Ending 'GOT' At Season 8
Neilson Barnard/Getty Images Entertainment/Getty Images
Game of Thrones comes to an end next year, much to the disappointment of fans around the world. But that doesn't mean they're not living it up at the Emmy Awards ahead of their final season. This year, Season 7 is nominated 22 times, more than any other show in 2018. With the show putting up numbers like that nearly every year since Season 3, why is Game Of Thrones ending after Season 8? Shouldn't it continue on forever? According to George R.R. Martin, who appeared in Sept. 17 on the Emmy Awards red carpet, there's one very good reason for it.
It's no secret at this point that the show and the author have gone their separate ways when it comes to the story of A Song of Ice and Fire. The first season, Benioff and Weiss were very faithful to the novel, but even then, Martin was always the first to point out that the smallest change to the story would eventually produce enough of a butterfly effect that it would veer off in a different direction than the novels.
The biggest change and probably the breaking point between them was when David Benioff and Dan Weiss cut Lady Stoneheart, a character near and dear to Martin's heart. Since then, he's stopped writing episodes for the show and is continuing to work on finishing The Winds of Winter instead.
But apparently, Lady Stoneheart wasn't the only point of contention. Check out Martin's quote below:
When asked why the show was ending, Martin says, "Ask David and Dan."
We could have gone to 11, 12, 13 seasons. But I guess they wanted a life... If you've read my novels, you know there was enough material for more seasons I think. They made certain cuts... But that's fine. There was a period where they were saying seven seasons, and I was saying 10 seasons and... they won.
Martin is correct in certain aspects here. If Benioff and Weiss had stayed truer to the novels, the series would have gone far longer, to at least 10 seasons, if not more.
But this is how the show has always planned it. Back in 2012, showrunners Benioff and Weiss said they were only planning 70 episodes or so, and they've wound up sticking pretty close to that number. By the time Game of Thrones Season 8 draws to a close, it will be 73 episodes, and ~75 hours, give or take.
But as Martin points out, this just gives HBO and himself a chance at a new series, noting the five prequels in development. He revealed for the first time that some of the currently-shelved proposals were set only 100 years before the current series, while the one that is going to pilot is set 5,000 years before the current show. He also reminds everyone he's an executive producer on the upcoming HBO series Who Fears Death, which is a fabulous novel and will hopefully make an extraordinary show.
Game of Thrones Season 8, meanwhile, will turn up sometime in the spring of 2019.