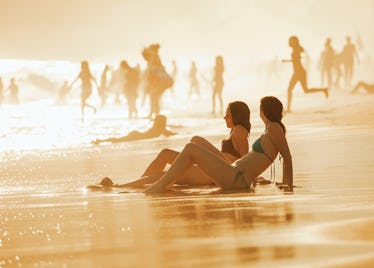 5 Underrated Reasons Why You Should Go On Spring Break With Your Childhood Bestie
I don't know about the rest of you, but I am so ready to welcome some sunshine back into my life on spring break. At this point, we're over two months into winter, snow, ice, and freezing temps every time we brave the outdoors. It's safe to say spring break comes in clutch right about now. This year, everyone I know is hyping up their trips and who they're going where with. In college, it's so simple to go on a vacay with your college besties, your SO, or your intramural team. It's super easy to forget that you might have the most fun heading on an ultimate getaway with one of your BFFs since childhood. Why go on spring break with your childhood bestie, might you ask? There are many golden reasons why you should call her up ASAP.
I can hear you thinking it now: "Childhood bestie? I haven't truly hung out with her in years." Let me start out by saying spring break is the ultimate time to reconnect. If you're both still looking to have the best spring break trip out there, you two should definitely consider planning something together.
Just think about it. Your childhood bestie was your number one for more years in your life than anyone else. And let's be real — no one else knows you quite as well. There are too many good reasons to go on a spring break trip with your BFF from childhood, but these five reasons are a good start.