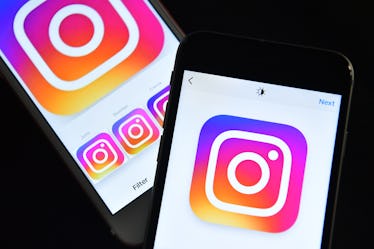 Here's How To Get Instagram's Nametag Feature To Easily Connect With Friends
Carl Court/Getty Images News/Getty Images
Say goodbye to those old "Hello My Name Is" identification stickers that oftentimes show up at networking events and work meetings. Instagram is bringing the name stickers into the 21st century, all while putting its own digital spin on making new friends. It's super easy, too. You'll just need to follow a few steps to gain access to the friendly new feature. If you are scanning your Instagram app but don't see anything, you're probably wondering, "Why don't I have Instagram's nametag feature?" Well, let me help you out.
On Thursday, Oct. 4, Instagram announced the release of its new nametag feature that connects users to one another in the app, but it's all done in person. It's a unique and state-of-the-art way to connect with friends — and make new ones. Nametag is a personalized ID — specific to your account — that is built into your Instagram app, according to Instagram. When your customizable ID card is scanned by other users, it allows them to find your profile and follow you on Instagram. Really. It's that easy. It's perfect for conferences, concerts, or connecting with old pals you run into at while you're running errands.
The new feature should hit your phone soon, as it's part of a global rollout, according to Instagram. If you don't have it, there are a couple of ways to troubleshoot the issue. First, make sure your phone is compatible with the Instagram app. It's currently available for download on iOS and Android devices. Second, make sure that your app is up-to-date. Head on over to your phone's app store to see if you're due for an update. If so, install the new rendition and then you should have access to the nametag feature.
Once you have it, you need to create your nametag. Open the Instagram app and navigate to your personal profile. In the upper righthand corner of your screen, you will see three short lines. Tap the lines and select "Nametag." From there, touch anywhere on your phone's screen or tap the button at the top to open up the next prompt. This will launch several different fun designs, colors, emojis, as well as selfies with a variety of stickers so you can create your own nametag. Go ahead and give it your own personal flair, because you'll be using this a lot more than you may think.
Now that you've got your very own nametag ID set up, it's time to connect with those around you. To add friends on Instagram using this handy new feature, you will need to scan the person's nametag with your own phone, according to Instagram. Open the Instagram app on your phone. Swipe right to open the camera. Make sure that the other person has their Instagram Nametag displayed on their phone screen. With your Instagram camera open, hold your phone over the other person's nametag and hold down on your screen.
There's one other way you can add Instagram users via their nametag. When viewing your own nametag, tap the "Scan a nametag" text that appears on the screen. This will open your camera in Instagram, and then you can follow the same process. It's a straightforward and uncomplicated way to link up with new contacts.
If you try updating and restarting Instagram and you still don't have the nametag, just sit tight. New features, especially large ones like a global launch, can take some time before the feature makes its way to each individual user.