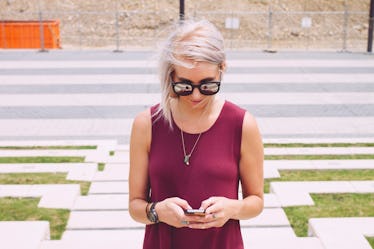 A Therapist Explains Why TF We Get The Urge To Text Our Exes (& How To Stop!)
I know the feeling all too well. A certain someone — be they an old fling, an ex-boyfriend or girlfriend, or a one-time hook-up — pops into your mind, and your fingers start to twitch. It starts out innocently enough: You just scroll through their Instagram feed, maybe browse their latest Facebook posts... But then your thumbs start to twitch. Before you've even realized what's happening, you're fishing their number out of your deleted contacts and crafting a text, "just to see how they're doing." But, why do you want to text your ex at all? What gives us that urge in the first place?
According to relationship therapist Anita Chlipala, LMFT, there's a whole host of reasons that might explain that thumb twitch.
"You wonder what they're doing, maybe [you're] wondering if they're out on a date, an ego boost to see if they respond, you're bored, you miss them, [or] maybe you think there's hope and they'll change their mind and want you back," she explained, ticking down the laundry list of possible explanations. That burning desire to text an ex or old flame doesn't necessarily mean you still want them (though it might!), but it likely means that you're, well, curious about their life or their family or their potential lingering interest in you.
But let's not forget that curiosity killed the cat, and it can just as easily squash your chances of moving on from that Ghost of Partners Past. Before you can treat the problem, you need to understand it. Here are three reasons why you might be making your ex's hotline bling, plus a few tips to help you kick the habit.