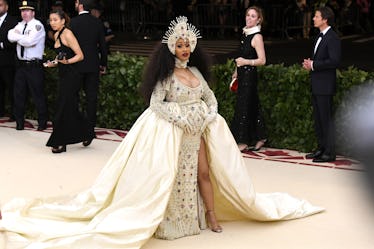 Cardi B Was Upset About The Met Gala For This Reason & You'll Def Relate
Noam Galai/Getty Images Entertainment/Getty Images
If you watched the 2018 Met Gala red carpet, you know that Cardi B made a huge splash for the cameras. Clad in a bejeweled Moschino gown and larger-than-life headdress, Cardi definitely livened up the event. The ensemble was designed by Jeremy Scott, who was Cardi's date at the Met Gala, and really highlighted her growing baby bump. But not all was calm on the red carpet, since Cardi B and Offset attended the Met Gala separately.
In a recent New York Times interview, Cardi explained that she was unhappy that Offset, her longtime boyfriend and father of her baby, couldn't walk the red carpet with her. Instead, Offset was grouped together with his Migos counterparts, Quavo and Takeoff.
Here's what she told the New York Times about how she felt walking the red carpet without Offset:
It's like, if y'all got so much people going with y'all, y'all could have just let him walk with me and take the two boys. That's why my baby ain't never gonna stand out.
Offset and the rest of Migos were wearing coordinated Versace outfits at the Gala. Versace was also worn by other high profile celebs like Kim Kardashian and Katy Perry. So, maybe Cardi has a point!
Cardi herself repped the designer of her gown, Scott, by walking the red carpet with him.
And fans went wild over her look. Some of them liked it.
Some fans didn't.
Whatever you thought of the gown, you can't deny that Cardi made the red carpet a memorable one! Plus, she looked pretty amazing.
Designer Jeremy Scott himself wore an ensemble that matched Cardi's gown perfectly. According to the New York Times article, Offset was originally supposed to wear the outfit, but that didn't seem to pan out for the Gala.
It's pretty obvious that Cardi would have preferred to leave the designers behind altogether and make an entrance with her boyfriend instead, which is totally understandable. They're engaged, after all!
Cardi B and Offset are expecting their first child together. The baby is reportedly due in July. In a red carpet interview with ET, Cardi teased the baby's sex. When asked how the baby was doing, Cardi referred to it as "she":
Oh, she wants to fight me! My dress weighs about 35 pounds plus baby. It's OK though, I used to go up the project stairs.
Aw, a baby girl for Cardi B and Offset! So sweet! And hey, at least Cardi has a sense of humor about carrying the weight of the dress and the baby! And the headdress! That is a lot to haul down a red carpet at seven months pregnant. But Cardi seemed to have it completely under control.
In her New York Times interview, Cardi also hinted at the sex of the baby:
Shorty weighs three and a half pounds. She do! She do weigh three and a half pounds. That's pretty good for seven months, right? Because I was born five pounds.
Cardi B and Offset started dating in early 2017 before making their relationship red carpet official in May 2017 at the Met Gala. They've been head-over-heels for each other ever since and even got engaged back in October 2017. Offset reportedly gave Cardi an engagement ring that was worth $550,000. She showed the ring off at the 2018 Grammys.
In addition to all of that, now there's a little baby coming into the world, which is so exciting. Couldn't be happier for them, honestly! It seems like this is such a happy time for both of them.