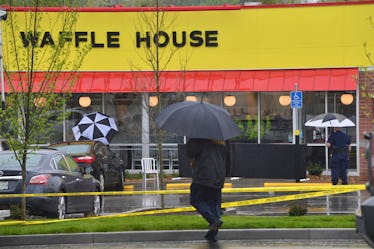 People Are Pointing Out The Double Standard Of The Waffle House Shooter Getting Bond
Jason Davis/Getty Images News/Getty Images
After a manhunt resulted in his capture on Monday, April 23, a man suspected of killing four people at a Tennessee Waffle House was initially granted $2 million bond, according to Nashville's NewsChannel 5. The bond meant that if the suspect or, say, his family were to have paid that amount, he could've walked free until he was set to stand trial. But given the fact that criminal suspects can be denied bail for severe crimes, the case in Tennessee begs the question, why did the suspected Waffle House shooter get bond?
That was the question asked by a number of people, including media members, after the suspect's capture. Some did so with outrage, especially considering that the shooter was charged with four counts of criminal homicide, per ABC. He is having a hearing on Wednesday. The shooter's bond was revoked on Tuesday afternoon, CNN reported, but that didn't stop the questioning about why it was granted in the first place.
CNN's Ana Navarro tweeted, "How in the hell does a guy with a previous arrest record, who then went into a restaurant, killed 4 people and injured others with an AR-15, had to have gun wrestled away, and then fled the scene, leading to a massive man-hunt ... how in the hell does that killer get bond?"
CNBC's John Harwood reacted similarly. "Shouldn't people who shoot a bunch of other people get held without bail?" Harwood tweeted on Tuesday.
Others reacted to the capture with worry and astonishment.
Kristen Clarke, a civil rights lawyer who formerly worked at the New York state attorney general's office, tweeted, "If Reinking and his family decide to pool cash and post 10 percent of his 2 million bond ($200,000) with a bond company, then he could literally walk out of jail. This is deeply troubling."
Adding to the shock value of the suspect receiving bond is the fact that the same suspect had a notable offense on his record, as Navarro alluded to. In July 2017, the suspect was arrested and charged with unlawful entry after trespassing on White House grounds, CNN reports. Four months later, his case was dismissed. After his 2017 release, the suspect was interviewed by the FBI in Illinois, where he lived at the time. According to CNN, the FBI ended up confiscating weapons from him, including an assault rifle that resembled the same weapon used to shoot and kill four people at a Waffle House restaurant in the Nashville, Tennessee area.
The combination of the suspect's history, the severity of the crime he's suspected of committing, and the fact that he received the opportunity for bond, led to others reacting to his capture while claiming a double standard was at work.
"I have drug dealers who have had their bond denied," tweeted CNN's Bakari Sellers, who is also an attorney.
"Imagine one of us killing four white people and still getting bond," tweeted writer and podcast host Crissle West.
"Can you imagine ANY black, Latino, Muslim, Asian, or any other men or women of color getting bail after murdering four people and leading the police on a wild goose chase? This is beyond disgusting. This is America 2018," tweeted Julissa Arce, a contributor to Crooked Media's slate of podcasts.
The level of confusion surrounding why the suspect was granted bond was deemed so significant that News Channel 5, a Tennessee local news station, produced a segment on the subject.
During the segment, reporter Nick Beres explained, "Now, many can't believe that exists for someone accused of such a crime, but the fact is under Tennessee law every single criminal suspect, except those in declared death penalty cases, are entitled to bond."
Beres also explained that even if the suspect were to attempt to claim bond, prosecutors would seek to have the amount of money required increased. Still, past news reports show examples of murder suspects in Tennessee being denied bail upon arrest.
Regardless of which individual cases resulted in suspects being granted bond and which didn't, it's clear that the suspected Waffle House shooter's bond has raised eyebrows on the familiar topic of double standards in the criminal justice system.