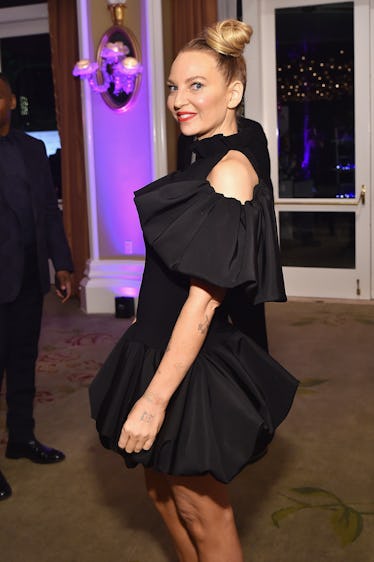 Sia Deleted Her Twitter After Reportedly Apologizing For Her New Movie, 'Music'
Stefanie Keenan/Getty Images Entertainment/Getty Images
Days after her film Music received two Golden Globes nominations on Tuesday, Feb. 2, Sia shocked fans by deleting her Twitter account. Fans found it odd the star provided no explanation as to why she left the platform. But Music has been receiving a lot of criticism due to her casting a non-autistic person in the lead role and its problematic depictions of people with autism, so the reason why Sia deleted her Twitter may have to do with that.
From the moment fans saw the trailer for Music, which marks Sia's directorial feature debut, they weren't happy. Fans wondered why she would cast Maddie Ziegler as the main character (a nonverbal autistic teen), rather than someone who was actually on the spectrum. They also criticized the singer for working with the controversial group Autism Speaks. The organization is meant to bring awareness to autism, but it has been criticized for having a poor track record of actually doing so.
Sia defended her casting of Ziegler by saying she couldn't find another actress to properly play the part. "My character was pretty low functioning and after attempting a few actors on the spectrum they suggested I use Maddie," Sia told fans in November 2020.
She addressed the backlash to her decision again months later. "I realized it wasn't ableism; I mean, it is ableism, I guess as well, but it's actually nepotism, because I can't do a project without [Maddie]. I wouldn't make art if it didn't include her," Sia told CNN in a Jan. 3 interview.
Despite being called out by numerous autistic people and organizations on social media for her casting decision, Sia continued to defend her decision. That is, until a scene from Music depicting Ziegler's character in prone restraints while having a meltdown — a practice which has been condemned since it can cause suffocation and death — leaked on Jan. 20 and caused further backlash.
On Thursday, Feb. 4, Sia reportedly apologized to those she hurt. "I promise [I] have been listening. The motion picture MUSIC will, moving forward, have this warning at the head of the movie," Sia tweeted, followed by the warning, which read: "MUSIC in no way condones or recommends the use of restraint on autistic people. There are autistic occupational therapists that specialize in sensory processing who can be consulted to explain safe ways to provide proprioceptive, deep-pressure feedback to help w meltdown safety."
Sia also said she plans on removing the restraint scenes from all future screenings of the movie. "I listened to the wrong people and that is my responsibility, my research was clearly not thorough enough, not wide enough," she added.
Her tweets reportedly only remained up for about an hour before she deleted her Twitter. Considering everything that happened, it seems likely Sia left due to all the backlash surrounding her film.