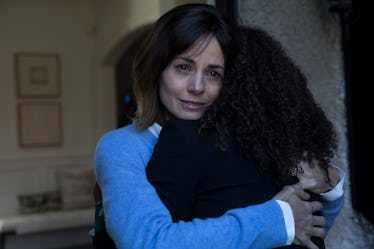 There's One Question All Fans Have After Watching The 'A Million Little Things' Premiere
ABC/Jack Rowand
If you spent any time watching ABC this summer, you knew even before the premiere of new drama A Million Little Things that its story revolved around a group of adults recovering from their friend's suicide. In its pilot episode, businessman Jon left behind a wife and several buddies who leaned on each other after losing him, but amidst their grief, the show left a major question unanswered. Why did Jon kill himself on A Million Little Things? It looks like we have a mystery on our hands for the series' first few episodes.
In a post This Is Us-era, it seems that networks dramas are just incomplete without an emotional backstory and a big question circling the overall storyline. The start of A Million Little Things jumped right to what we were expecting by introducing Jon and promptly showing his deadly jump out of his office building's window. His assistant Ashley witnessed his suicide, but chose to hide a letter for his wife Delilah that presumingly explained Jon's decision. The secretary's subtle move obviously inspired even more mental turmoil for Delilah and the couple's friends, who couldn't fathom why "perfect Jon" would kill himself.
While Jon's death came out of the blue for his friends, his buddies were also caught up in their own challenges when word of Jon reached them. Gary was at the doctor's, waiting to hear if his breast cancer had returned, while Eddie was determined to leave his wife that day for another woman. Aspiring filmmaker Rome was nursing a literal mouthful of pills when Gary called him about Jon, having penned his own suicide note for his wife Regina. Their friend's death pulled the men back together only a week after they were last together at a hockey game.
Seeing as Jon was in such a happy mood during the game and delivered a heartfelt speech about friendship to the other guys, his friends were dumbstruck about why he committed suicide. Following the funeral, Gary's date and fellow breast cancer survivor Maggie led the group to realize that Jon might have suffered from depression. It turns out that this funeral crasher specializes in the study of depression, and as Jon came across as so positive to his friends, her insight was particularly helpful in understanding the possible reasoning behind his suicide.
The men later learned that Jon called Eddie right before killing himself, inspiring Eddie's internal guilt and a belief that Jon's death should inspire the group to lead better lives. Initially, the idea that Jon reached out to Eddie was bittersweet, but as the last few minutes of the pilot revealed, Eddie and Delilah were having an affair. Eddie even ignored Jon's call because he was in bed with Delilah when it came through. Had Jon figured this out just before his death? It seems a little vicious to call Eddie out before a seemingly predetermined decision, so perhaps Jon's knowledge of the affair will be explored in future weeks.
In the show's next few episodes, viewers will also have to wait for plenty of background story and layered explanations to understand Jon's decision. Season 1 of A Million Little Things continues on Wednesday, Oct. 3, at 10 p.m. ET on ABC.
If you or someone you know are experiencing suicidal thoughts, call 911, or call the National Suicide Prevention Hotline at 1-800-273-8255.