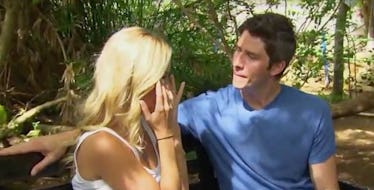 Try Not To Cringe Watching Emily Break Up With Arie On 'The Bachelorette'
ABC
Ovaries around the world exploded when Season 8's The Bachelorette debuted and gave us Arie Luyendyk Jr., a then-race car driver who was handsome and sweet and had hella good hair. Arie had hearts melting for obvious reasons, but when it came to Bachelorette single mom Emily Maynard, it sadly didn't pan out. Maynard ultimately chose Jef Holm over sweet, sweet Arie. But the reality TV gods were apparently listening to our cries, because Arie is now set to be the newest Bachelor, so we can watch him get his shot at love once more. But why did Emily break up with Arie on The Bachelorette in the first place? Was he too sweet? Was his hair too nice?
And, while her relationship with Jef didn't pan out, Emily did find love once more with her now-husband Tyler Johnson, who she married in 2014 and now has three children with (as well as her older daughter, Ricki, from a previous relationship). Since the announcement of Luyendyk Jr.'s as the newest Bachelor, Maynard has been very vocal about her thoughts on her former flame's new gig. She told Us Weekly,
I can't think of a better person to be The Bachelor than Arie and I've been hoping this day would come since Season 8 ended! He's a gentleman through and through and all the girls on his season are lucky to have him.
She also added, "I'll be wishing him nothing but the best because that's absolutely what he deserves!"
Honestly, that's super sweet and all, but if she thought he was such a "gentleman" and thinks that the girls on this season are "lucky to have him," why in bloody hell did she pass him up in the first place?
In case memories from 2012 are far too distant for you (no judgment here, I can't even recall what I ate for dinner last night), here's the brutal clip where we watch Emily take Arie's heart and crumble it into a million pieces:
It's like you can hear the moment his heart shatters.
Maynard confessed, "You know how I feel about you, from our very first date and even beyond that, I felt like it was going to be me and you, and I don't know anymore." She continued, saying, "I never thought that I would have to make a choice between you and anybody, I thought it was just going to be me and you. Honestly. I want you to know, like... I'm sorry."
Ouch.
Cue tears streaming down Maynard's face, and a disappointed Luyendyk Jr. walking away.
Apparently, Arie's feelings were totally real. He told Entertainment Tonight that because of his deep love for Maynard, he's yet to feel that "same feeling" for anyone else. He said,
I haven't felt that same feeling that I had when I was on The Bachelorette. It really drove me to do this. [The show] gave me the time to really put myself in front of somebody and shut everything [out] and not worry about work and all the other pressures of life.
Well, damn.
So does this mean that Arie will find love now that he's the newest Bachelor? Apparently, yup, he does. And not with just one girl, either.
That's right. Our man Arie confessed to Us Weekly that he fell in love with not one, but two women. He said,
The journey obviously was a great experience and I did fall in love ... I actually fell in love with two people … The toughest part about being the Bachelor would probably be the end, making tough decisions toward the end. I mean, that's the hardest decision of your life, really. It's a forever decision, so it's not taken lightly. I think that was probably the hardest thing.
OK while it's technically not a "forever" decision, he definitely has a point.
Either way, I am so here to watch Arie and that gorgeous hair of his fall in love once more on my TV screen.