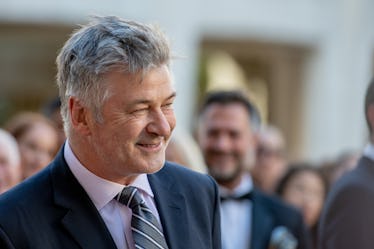 Alec Baldwin Pulled Out Of 'The Joker' Movie Just Days After Being Confirmed
Roy Rochlin/Getty Images Entertainment/Getty Images
After a run of poorly reviewed movies, the DC Extended Universe seemed to be slowly turning things around. Wonder Woman not only made the Top Five grossing films of 2017, but rumors out of Aquaman's early test screenings suggest the universal franchise has finally found its rhythm. With the wind at its back, Warner Brothers announced more films that may or may not tie back to the Justice League world, including The Joker. But all may not be sunshine and roses, as word broke Alec Baldwin dropped out of The Joker just over 48 hours after his casting was announced.
It was a bit of whiplash for fans who were just processing Baldwin would be playing the father of the titular Batman, Bruce Wayne. Bruce's father, Thomas Wayne, is a character killed off early in Bruce's childhood, along with his mother. With filming beginning on Sept. 10 according to Deadline, this seemed a pretty small, but well-paying cameo, perhaps one to be expanded through flashbacks.
According to the synopsis of the upcoming movie:
Under the direction of Todd Phillips, the film centers around the iconic arch nemesis and is an original, standalone story not seen before on the big screen. Phillips' exploration of a man disregarded by society is not only a gritty character study but also a broader cautionary tale.
But whatever it was then, it's no longer now. Just days later, sources are confirming Alec Baldwin has changed his mind and is walking away from filming.
According to USA Today, Baldwin cited "scheduling issues" and then said:
I'm no longer doing that movie... I'm sure there are 25 guys who can play that part.
Entertainment Weekly confirmed he wasn't kidding. Baldwin has dropped out of the film.
The film reportedly was re-imagining the Wayne patriarch as a 'cheesy and tanned businessman who is more in the mold of a 1980s Donald Trump' than how he's traditionally portrayed as a warm-hearted billionaire philanthropist intent on bettering Gotham City before he's cruelly gunned down by a mugger in front of his young son. The role of doomed Thomas Wayne is normally a bit thankless, but it sounded like the film was at least doing something uniquely interesting with it.
But perhaps the "uniquely interesting" part of the character spec was the problem. Baldwin has had a career renaissance these past few years, mostly on the back of a scathingly dead-on Trump impression, both throughout the campaign, and the president's first term. But Baldwin has made it clear he dislikes doing the role and has attempted to retire it once already.
Finding himself signed up for what should have been a lucrative day or so of filming, a big name in a small part, only to discover he's been typecast as a Trumpian figure may have been enough for Baldwin to decide this wasn't worth it.
The Joker, which stars Joaquin Phoenix in the titular role, does not yet have a release date but is expected to arrive in late 2019 or early 2020.