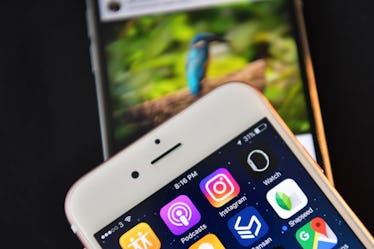 This Is What You Need To Know About Getting GIFs For Your IG Story
Carl Court/Getty Images News/Getty Images
Have you been swiping through your friends' Instagram Stories and noticing something a little different about them? If you're seeing a little extra sparkle and ambiance as you tap through Stories, that would be due to the (very cool) new GIF stickers that Instagram rolled out in an update on Tuesday, Jan. 23. Don't panic just yet if you don't see them in your own Instagram camera and find yourself wondering why you can't get GIFs on your Instagram Story — there is a simple solution.
Instagram announced the GIF sticker update on Tuesday, and it should be available immediately in the app. Since this is a wide rollout, though, it may take a few hours to get to everyone using the app, according to Instagram. So if you're not seeing the GIF stickers right away, don't worry, because it won't be a permanent situation.
First, you can always try restarting the app, and then the GIF stickers may appear in Instagram's camera feature. If that unfortunately doesn't work, you may just have to wait it out, but rest assured that the GIF stickers will be updated in your Instagram app within a matter of hours. Trust me, they will be well worth the wait.
So, what will you be getting when the coveted Instagram GIF stickers finally arrive? These animated GIF stickers, which are powered by Giphy, will allow you get very creative with any photos or videos that you want to add to your Instagram Story.
Your options range from adding animated "effects" GIF stickers that include sparkles, fire, and confetti to adding "Word Art" GIF stickers, which are perfect for conveying a special "happy birthday" wish or expressing your excitement with a fitting "OMG."
If you're a fan of all things filtered, you can get a similar effect when you search "accessories." Instagram GIF stickers in that category will include GIF stickers that can be layered over faces, such as sunglasses, hats, and animated facial feature GIF stickers like eyes, lips, and ears — those "girls' weekend" photos just got a lot more fun (and hilarious).
Since you'll likely be hooked on Instagram GIF stickers as soon as they make their way to the app on Tuesday, you'll be happy to know that your options go even beyond the possibilities outlined above. You can get tricky with it by using the "Peekers" GIF stickers, which are especially fun because they are able to pop up out of a scene and then disappear again. When you really want to go all out to celebrate a big event, there are GIF sticker themes like "happy birthday" and "congratulations" that will bring up the perfect content with which to animate your special Story.
Sometimes, though, you know that you want to add a GIF sticker, but you're just not quite sure which route to go. That's when the ability to search the trending page comes in handy because it will provide you with the current popular stickers from Giphy. You can either add one of the popular GIF stickers into your photo, or the results might get your own creative juices flowing and you can create an original Instagram Story complete with the perfect complementary GIF stickers.
If you're not a regular Instagram Story user, you can also share your photos and videos featuring GIF stickers by sharing them with Direct Message or saving them to your camera roll to upload to your feed later.
Speaking of Direct Message, Instagram also recently revealed the (slightly creepy) news that your "Activity Status" is shown to your Direct Message recipients in that portion of the app, so just know that your messaging partners will see when you've been "last active" — and thanks to new GIF stickers, you're likely going to be on it quite often.
But hey, as long as you're sending along the coolest photos that highlight your improved Instagram GIF game, I'm sure there will be #nojudgment on the other end.