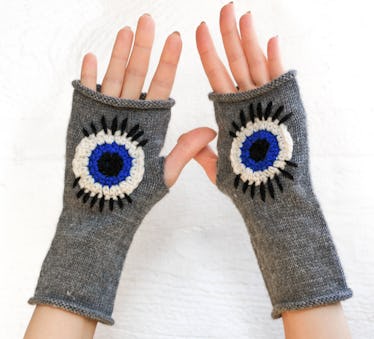 Here's Why Everyone Is Wearing "Evil Eye" Gloves At The March For Our Lives
If you happened to have attended one of the many Women's Marches throughout the United States within the past year or so, there's a likely chance that you saw thousands of heads covered in pink "pussy hats" as a symbol of warmth, unity, and resistance. Similarly, there's a signature piece of clothing that March For Our Lives protesters will be wearing this year, and trust me — it's going to be eye-opening. If you're wondering why people are wearing "Evil Eye" gloves at March for Our Lives, the reason is beyond powerful... so definitely keep an eye out.
According to CNN, the idea of wearing "Evil Eye" gloves for March For Our Lives was started by one of the feminists and crafters behind the super famous pussy hats, named Krista Suh. According to CNN, she said that the idea came to her in a dream that involved a protest where everyone had their hands in the air. Everyone's hands were decorated with giant eyes. Suh said it created a "Sea of Eyes," and that she felt it symbolized the fact that Congress should know that people are watching them. She ended up working with other craftsmen and #NeverAgain activists to help make eye gloves and donate to the cause, and they ultimately made her vision become a reality.
At this point, Suh has received hundreds of donated pairs of "Evil Eye" gloves, per CNN. Like she did with making pussy hats, Suh connected with hundreds of crafters — or "craftivists" — to not only create meaningful pieces of clothing, but also to share stories and to ultimately create a community of people who care about the cause. On Suh's website, she's encouraging others to either knit a pair of "Evil Eye" gloves to wear or donate, or to donate money to the cause. Her initial goal was to acquire 438 pairs of "Evil Eye" gloves, which represents the number of people killed or injured in school shootings in the last four years. Now, however, she has over 1,000 donated pairs from around the world, according to CNN. They come from events, organizations, and even workshops that are actually teaching people how to make their own gloves.
Although the evil eye is super empowering and symbolic in modern activism, it actually has a super historical and spiritual meaning, per CNN. Oftentimes it wards off evil. In the contextual sense of March For Our Lives, it not only represents that Congress is being watched, but also that it's protecting the person who's wearing it. When the evil eye is displayed on a hand, known as the Hamsa hand in Jewish culture, it symbolizes protection from harm.
Craftiness might not come to you naturally, and that's totally OK. Pinterest has a ton of content revolving around step-by-step directions on how to make your own evil eye gloves. And honestly, crocheting and knitting has never looked easier. If getting crafty just really isn't your thing, "evil eye" gloves are currently a very trendy item to buy online. Even though you probably won't have them in time for the march if you order them online, you can still show your support by wearing them later.
Now you'll totally be in on the "evil eye" glove trend at March For Our Lives, and you'll also know that it's supporting an amazing cause. Not only does the evil eye represent that Congress is watching, but the application of the symbol, especially when worn on a hand, symbolizes warding off evil. And, most importantly, making them creates a community of activists that'll share their stories while encouraging others... which is one of the most important parts of supporting a cause.