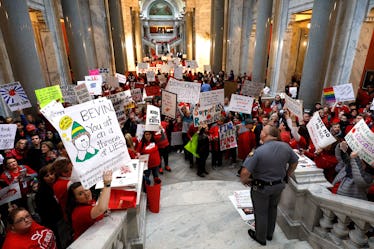 Teachers In Oklahoma & Kentucky Are Walking Out In Protest & Here's Why
Bill Pugliano/Getty Images News/Getty Images
Just shy of a month after a nine-day strike ended in West Virginia, more teachers across the country are engaging in demonstrations of their own. Schools were closed as thousands of educators gathered at state capitals to protest on Monday. So why are Oklahoma and Kentucky teachers walking out?
On April 2, teachers in Oklahoma converged at the state capital to demand pay raises and all-around increased funding for public education. Meanwhile, Kentucky educators were protesting changes to their pensions in a mass demonstration at the state capital after a walkout on Friday.
The protests in the two midwest states come after thousands of educators in West Virginia went on strike in late February demanding higher salaries. The strike ended in early March after the state legislature agreed to a 5 percent pay increase. Now, a larger push appears to be emerging among educators nationwide.
Video footage showed a massive crowd occupying the Kentucky state capitol building in protest. Changes to Kentucky's teacher pensions were folded in to a bill passed in the state legislature last week, per CNN. The bill, which is now facing Governor Matt Bevin, holds the cost of living adjustment at 1.5 percent, requires members to contribute cash of their own, and limits the number of sick days that can go towards retirement. Kentucky Education Association President Stephanie Winkler called the pension changes "a bomb that exploded on public service," according to CNN.
Over in Oklahoma, per a tweet by reporter Scott Heins, some 30,000 demonstrators were expected at the state capitol, plus several protests in solidarity. The Oklahoman reports that 200 schools were closed Monday.
Teachers there were demanding better funding for the education system at large. According to the Oklahoma Policy Institute, while public school enrollment has increased, state aid funding has decreased, meaning less money is spent on each student. Last year, Oklahoma's cuts in state aid funding were the deepest in the country. Adjusted for inflation, The Oklahoman reports, the funding levels are 28 percent lower than they were in 2008.
And the lack of funding has become apparent. Per The Washington Post, the chronic underfunding for public schools has left many districts literally in the cold, as students suffer from inadequate heating in classrooms. The issue has gotten so bad that some districts have moved to four-day weeks because they can't afford the operating costs of a fifth day.
Pay increases are another of the central demands of Oklahoma teachers, as educators in the state have had to resort to desperate measures to make ends meet. "Teachers are so drastically underpaid they are forced to donate plasma, work multiple jobs, and go to food pantries just to provide for their families," says Oklahoma Education Association President Alicia Priest in a video on the group's Facebook page.
According to The Oklahoman, the state legislature last week passed a bill aimed at avoiding a walkout, offering teachers a fraction of the teacher pay raises and increased school funding they had sought. The partial amount was enough to call off some school districts' planned closures, the paper reports, but not all. Some of the state's largest districts were still planned to be closed through at least April 2. Priest said their group would plan to strike until all demands were met.
While some educators and education professionals around the state took the win where they could get it, many others, per The Oklahoman, expressed the need to hold out for the full package and not lose momentum. The issue, they say, is not just about current teachers getting pay raises; it's about funding the larger education system.
"We need more money for support staff, we need more money for the state education budget, we need more money for the cost of living adjustment for retired teachers," teacher Greg Oppel told the paper. "We are not sure that everyone understands that it's not just about teacher pay raises, it's about all these issues put together."
Monday's protests were in many ways catalyzed by the success of the West Virginia walkout last month. In addition to Kentucky and Oklahoma's walkouts, there are rumblings of a walkout to take place in Arizona. Teachers there are threatening to strike, per USA Today, after rallying at the state capital last week demanding a 20 percent pay raise. A tweet by the American Federation of Teachers, for one, suggests that Monday's protests may not be the last we see of educators' uprisings.
It's unclear how long protests in either state will last, but a tweet by The Oklahoman's Ben Felder indicates that schools in the state will also be closed Tuesday.