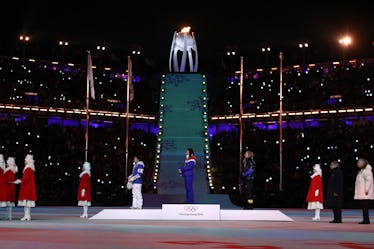 The Medals Aren't Over At The Olympics Closing Ceremony, & Here's What's Going On
Maddie Meyer/Getty Images Sport/Getty Images
That's all she wrote, folks. The PyeongChang 2018 Winter Olympics are officially coming to a close. On Sunday, Feb. 25, the world said goodbye to the Winter games with a closing ceremony in PyeongChang, South Korea. It was a celebration of all the success of the games and a time to cheer for all the work put in by athletes all over the world who trained for years to bring home gold for their countries. If you happened to watch it live on Sunday morning (if you didn't, you can still catch it tonight, Feb. 25, on NBC at 8 p.m. ET), though, you might have noticed that some of the competitors were being given medals. But why are medals given during the Olympics closing ceremony instead of after their respective events? It's all a matter of timing
It's actually traditional for some of the medal ceremonies to take place during the closing ceremony, according to The New York Times. The International Olympics Committee (IOC) provided a rundown on how Olympic closing ceremonies should go down. It explains that during the first few games, dating back to 1896, all of the medals were awarded during the closing ceremony. However, currently only one sport is set aside to pay homage to that tradition. That sport is chosen by the IOC in conjunction with the Organizing Committee for the Olympic Games (OCOG). In the Summer Games it's usually men's marathon and in the Winter Games it's cross-country skiing.
Though it's tradition that cross-country waits until the closing ceremony to be awarded their medals, there was plenty of time after their events. The men's 30-kilometer mass start cross-country competition took place on Saturday, Feb. 24 at 2 p.m. South Korea time. As for the women's portion, that took place on Sunday at 3:15 p.m. local time.
For the women's 30-kilometer mass start cross-country skiing competition, which took place on Feb. 25 South Korean time, Marit Bjoergen of Norway took home her eighth gold medal. Yes, I said eighth. If anyone ever deserved to get their medal during the closing ceremony... am I right? Meanwhile, on the men's 50-kilometer Iivo Niskanen of Finland snagged his second gold medal, but the first for Finland at PyeongChang 2018. Niskanen told NBC how proud he was to bring home the first gold for Finland. He said,
I [was] wanting to win my gold medal [over] this distance and it has been long years awaited, long four years actually. But [I] could handle the pressure and everything went perfectly today. It's a big deal for us. I saw the list. The last Olympic champion in an individual race was 20 years ago.
Following Niskanen in medals for the men's cross-country was Olympics Athletes competing from Russia's (OAR) Alexander Bolshunov who took home a silver medal, and Andrey Larkov, also from OAR, who took bronze.
As for the women's 30-kilometer mass start cross-country, coming in second to Bjoergen was Finland's Krista Parmakoski with silver and following her, Sweden's Stina Nilsson with bronze.
I think it's pretty cool that once you're done training and kicking butt and beating out all the other competitors, you get to be awarded your medal at the closing ceremony. That's pretty epic and worth the wait.
Remember: if you didn't get a chance to watch the closing ceremony while it was happening live, NBC will be broadcasting it tonight, Feb. 25, at 8 p.m. ET. So you all get another chance to get in on the action and cheer for all the athletes: the ones who won, the ones you wanted to win but didn't, the ones you crushed on, and the ones who just tried really really hard to win it all and go back to their countries as champions.
But with all the medals doled out, the Olympics are officially over. And though I am personally sad to see them go, I'm also kind of happy that I can stop feeling bad about all of the sports-like skills (and just run-of-the-mill ambition) I lack. Congrats to the winners!