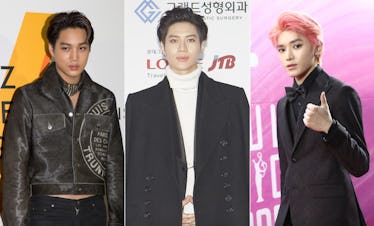 7 Idols From Different K-Pop Bands Are Starting A Super Group
Christopher Jue/Getty Images Entertainment/Getty Images & Chung Sung-Jun/Getty Images Entertainment/Getty Images
Do you ever get that sneaky feeling that the boundaries of celebrity status are about to burst? That's how I feel learning about the new K-Pop supergroup, aptly titled, Super M. It's just too much talent in one space! The world can't sustain it! Capitol Music Group and its independent label service, Caroline, just formally announced the creation of the new "Avenger's of K-pop" leaving everyone wondering: Who's in Super M? I'll give you a hint. Make a list of your favorite K-Pop groups and idols currently represented by the label SM Entertainment, and then close your eyes and point. Odds are, you landed on someone in the new iconic group.
The major announcement was made on Wednesday, Aug. 7, at the 2019 Capitol Congress showcase, which included appearances by other major music giants and new music releases and reveals. It was a collaborative effort unveiling the new powerhouse band. CMG chairman and CEO Steve Barnett, Caroline president Jacqueline Saturn, and SM founder Soo-Man Lee participated in the major announcement with some sort of video presentation that, from the sound of it, was very cinematic.
So, who are these avengers?
We've got: SHINee's Taemin, EXO's Baekhyn and Kai, NCT's Taeyong and Mark, and members Ten and Lucas from the Chinese-pop band WayV. That's seven heartthrobs from established and beloved groups coming together to give you one superhero group. In all sincerity, the new band is genuinely being referred to as "The Avengers of K-pop."
Christopher Jue/Getty Images Entertainment/Getty Images
Chung Sung-Jun/Getty Images Entertainment/Getty Images
Chung Sung-Jun/Getty Images Entertainment/Getty Images
A&R executive at SM, Chris Lee, told Forbes, "This is a total new formation of a group and artist, and also a totally new form for the business." He further explained:
We're maintaining their groups, their solo careers, and on top of this we have this "Avengers" group to pull them together. There's already an Iron-Man, a Thor, etc; and just like how the Avengers can have their own successful movies, there is a different kind of energy when they are together as the Avengers. We are now creating that as a point of business. We want to create a synergy between their groups, them as solo acts, and the Super M group to create a big wave in this K-pop industry.
Sorry, did he just say there's already an Iron-Man? This is getting a little meta for me.
According to the report, Super M is scheduled to debut in America in October 2019. One thing everyone appears to be extremely conscious about is what this means for the artists' current fanbases who love and cherish their music and group dynamics as they are.
"We understand what they're worried about, definitely, and the artists themselves do too. We're trying to turn those concerns into excitement," Lee explained. "Right now, the artists themselves are sympathizing, but recognize that this is a way to connect with a lot of fans, including K-pop fans in general. We're trying to satisfy all with well-made content and we're confident in that."
As of now, the new Super M Instagram account only has three posts that spell out the new group's title.
You can also pop over to the Super M website where you'll be treated to one mysterious photo of all of the member's silhouettes.
It's all about that hype, you guys! Strap in.