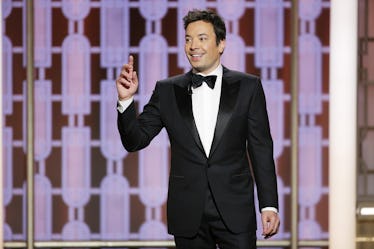 The Golden Globes Has Its 2018 Host & We're Ready To Laugh
Handout/Getty Images Entertainment/Getty Images
The 2018 Golden Globes are set to air only a few months from now on NBC on Jan 7., and it looks like the award show finally has its master of ceremonies. Who's hosting the Golden Globes? According to a report by Variety, Late Night's Seth Meyers is close to reaching a deal that will officially land him the gig.
The Saturday Night Live alum is no stranger to taking on hosting duties for major events in both Hollywood and D.C. He headlined the 66th Primetime Emmy Awards in 2014 and held the coveted keynote speaker position at the 2011 Whitehouse Correspondent's Dinner. Seth also has writing credits for three past Golden Globe ceremonies and he's been front and center behind the Late Night desk since 2014. Meyers is known for his biting political commentary, plus, we can only assume that he will have no choice but to address the elephant in the room — the recent onslaught of sexual misconduct scandals and allegations that have rocked Hollywood. Publications like the NY Post are already calling for a cancellation of the Oscars (yeah, prob not gonna happen) given the current climate, but it looks like the Golden Globes are a go. It will be interesting to see how Seth will navigate this tricky role.
Meyers follows in the footsteps of some esteemed comedic colleagues and contemporaries who have hosted the Golden Globes in the past. His former SNL co-stars Tina Fey and Amy Poehler teamed up in 2013, 2014, and 2015. Tonight Show frontman and Seth's nightly lead-in Jimmy Fallon stepped in last year and Ricky Gervais returned for a fourth time in 2016. And who knows? Maybe some of those familiar faces will join Seth for a little cameo action. Hopefully BFFs and partners in comedy crime Tina and Amy are up for it.
This upcoming year marks a milestone year for the annual Golden Globes ceremony, which bestows awards in both television and film voted on by the Hollywood Foreign Press. It was recently announced that Will & Grace stars Eric McCormack and Debra Messing will be hosting a 2 hour special on NBC celebrating 75 years of the award show on Dec. 13, if you need to whet your appetite for the big telecast the following month.
The Golden Globe nominations will be announced on Monday, Dec. 11. Every year the nods are subject to plenty of snubs and shockers, so we'll be waiting to see who gets the recognition they deserve. Critical darlings The Shape of Water, Dunkirk, and Call Me By Your Name are all likely frontrunners in the movie department. Thought-provoking horror hit Get Out has been submitted in the comedy category, so that has a good chance of facing off against other possible contenders Lady Bird and The Big Sick.
The Handmaid's Tale — which took home Best Drama at the Emmys — is almost certain to get a nomination, as are mass appeal faves like Game of Thrones and This Is Us. We would be surprised if the beloved Veep didn't garner a nod for Best Comedy Series, alongside strong seasons of Black-ish and Master of None.
The Golden Globes are known for odd surprises that don't always align with critical or fan opinion. 2011's The Tourist comes to mind — the universally panned Johnny Depp vehicle picked up a Best Comedy nomination. Burlesque is totally acceptable as a campy musical escape, but a Golden Globe nomination? Really?! (Seth Meyers voice.)
Whatever goes down, we hope seasoned pro Seth Meyers and his signature wit can handle it.
The 75th Annual Golden Globes will be held Jan. 7, 2018 on NBC.