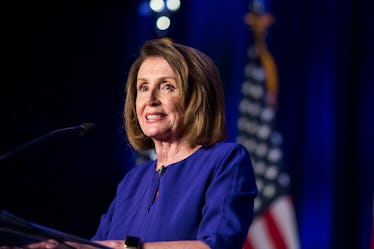 Congress Is Getting A New Speaker Of The House After The Midterms, So Get Ready
Zach Gibson/Getty Images News/Getty Images
Well, the 2018 midterms have come and gone. The weeks leading up to the race had been a total frenzy, from the conflicting projections to the burning question of which party should control the next Congress. Ultimately, both Republicans and Democrats had major wins, with the former claiming the Senate and the latter claiming the House. But the results of the race have raised even more questions about what's next to come in Congress — particularly who will be speaker of the House, now that Democrats have flipped it. Well, it's not certain, but we know one thing — it'll be a Democrat.
To become speaker of the U.S. House of Representatives, a congressperson traditionally needs a majority vote on the chamber floor — or 218 votes from the 435-member chamber. Members vote on the new speaker on the first day of a new Congress, and representatives traditionally vote for members of their own party. After the Democrats' victory, many looked to Nancy Pelosi of California, who previously served as speaker from 2007 to 2011. Pelosi was the first woman to ever lead the House, and if she resumes her role she will be both the first and second (technically).
However, while a frontrunner to take on the speaker role, Pelosi isn't the only choice. Another potential option is Rep. Tim Ryan (D-Ohio), who lost to the politician when he challenged her to be the House minority leader back in 2016. Some are predicting that Ryan will challenge Pelosi for the role (hey, he wouldn't have to change all the "Speaker Ryan" stationary after current Speaker Paul Ryan steps down).
Still, Pelosi seemed confident that she would be named as the next House speaker. "It is up to them to make that decision, but I feel pretty comfortable where I am," Pelosi told CNN in October, when asked if she will be the next speaker. Following the Democratic victories on Nov. 6, Pelosi gave a speech praising her party's efforts. "Thanks to you, tomorrow will be a new day in America," she said. "Remember this feeling, know the power to win," she said.
The new Democratic speaker will take over from Paul Ryan of Wisconsin, who has served as speaker since 2015. However, he chose not to seek re-election and announced he would be retiring in 2019. "You realize something when you take this job," Ryan told reporters back in April, per CNN. "It's a big job with a lot riding on you ... but you also know this is not a job that does not last forever. ... You realize you hold the office for just a small part of our history. So you better make the most of it."
He also told reporters that when he took the job from previous speaker John Boehner in 2015, he did so "reluctantly," echoing widely-circulated rumors that he did not want the position. But Ryan also said he has no "regrets," adding, "I like to think I've done my part, my little part in history to set us on a better course."
Some Twitter users didn't exactly agree, though, so the announcement met little fanfare on social media.
Well, Democrats are clearly ready to take over the torch and lead the House to new heights. Good luck to whoever takes this on. It's clearly going to be a task.