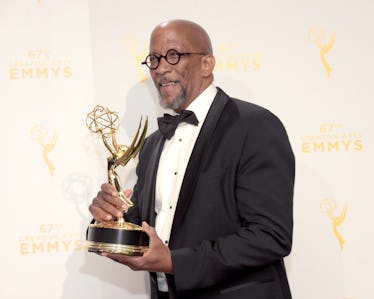 'Luke Cage' Season 2 Pays Tribute To This Late Actor & It's So, So Touching
Jason Kempin/Getty Images Entertainment/Getty Images
Luke Cage Season 2 introduces a veritable pantheon of new characters, including John "Bushmaster" McIver and his whole clan, new police officers like Nandi in the station, and a new Stokes, in the form of Mariah's long-estranged daughter, Matilda. But none were more important to Luke Cage than the introduction of his father, Rev. James Lucas, with whom he has a long and antagonistic relationship. The man behind the preacher's garb was longtime actor Reg E. Cathey. Who was Reg E. Cathey? Warning: Spoilers for Luke Cage Season 2 follow.
Cathey's career started out in children's television on the beloved math show Square One before moving to 1990s-era staples such as Homicide: Life on the Street and guest appearances on Star Trek: The Next Generation. But his career really took off when he wound up on HBO shows, with roles such as Martin Querns in Oz and Norman Wilson in The Wire.
From there, he went on to Netflix's House of Cards, the streaming service's first major in-house hit production. Cathey was nominated for three consecutive Emmy Awards for Outstanding Guest Actor in a Drama Series, winning once.
It's not surprising when looking to cast Luke Cage's father that Netflix's casting people looked to Cathey for the role, having him both open and close the series with sermon-like voiceovers.
But fans will notice when his voice fades out at the end of the season, an "In Memoriam" title card appears, dedicating the series to Cathey, who passed away barely three months after filming wrapped.
Netflix, at the time, put out a statement saying:
We are heartbroken by the passing of our friend and House of Cards colleague Reg E. Cathey. Reg was the kindest man, the most giving actor, a true gentlemen. Our sympathy goes to his family.
Though it was never officially confirmed, word was Cathey was battling lung cancer. Luke Cage star Mike Colter spoke a little bit about it in a recent interview with Variety ahead of the Season 2 release, saying:
He started getting sick on location and he dealt with it in a very regal and exceptional manner. His professionalism taught me a lot about how to carry yourself. He taught me a lot about life, about being an artist. We knew some people in common from years back. One of my acting teachers was one of his classmates at Yale. Just connecting that way — I really enjoyed his company.
Colter and Cathey were electric together this season on screen, from their very first confrontation in the premiere episode. But Claire pinpoints the issue early on. Cage is so angry at his father, both for refusing to believe he was innocent and dragging his dying mother away without saying goodbye, that he can't see the elder Lucas is in Harlem because he's trying to reconnect.
It's not until Cage's other means of support, including Claire and Bobby, both leave town that he's finally forced to ask his father for help. Then, the walls between them start tumbling down. One of the best moments is watching Cage's father cold-clock an assailant because they were coming after "my boy."
But James Lucas turns out to be a bit of an Achilles heel for Luke as well. He may remind Cage of the decent person he was, but Rev. Lucas is blind to people like Mariah Stokes and her long con game plans. When she sees Luke for what he was before he became a superhero, a "big boy scout," suddenly, she knows exactly where to plant the poisoned apple. She wills him the deed for Harlem's Paradise, knowing he'll take the bait and fall from grace.
Cathey's turn as Lucas is a lovely final entry into his pantheon of work.