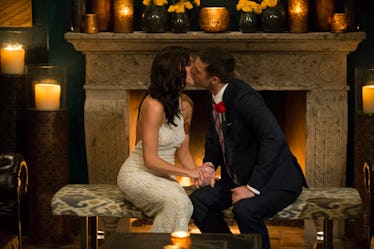 Becca Admitted Garrett Wasn't Her First Kiss On 'The Bachelorette,' Here's Who Was
ABC
Bachelorette Season 14 contender Garrett Yrigoyen has been a frontrunner since Night One, thanks to his minivan entrance and impromptu fly fishing in the mansion's pool. From a viewer's perspective, he also scored the first kiss with Becca Kufrin of the season after she awarded him with her first impression rose. It's so easy to get caught up in the (mostly) flawless editing of The Bachelorette that we don't often question what version of reality it presents us with, but our latest leading lady has dropped a bombshell in regards to a question we thought we had sorted: Who was Becca's first kiss on The Bachelorette? She recently revealed that it wasn't actually Garrett. Mind blown!
As the three past Bachelorettes reminded Becca when they visited her for a pre-season chat, all of their eventual fiancés snagged the first impression rose and a kiss on Night One. Of course, if you looked at the nitty gritty of each Bachelorette season, you'd probably find plenty of women who kissed more than one guy or kissed a totally random contestant on the season's first day. In an interview with Us Weekly, Becca essentially fessed up to being one of those leads despite what ABC decided to show us.
Answering fun, quick questions in a video for the magazine, Becca made me question all of what ABC presents as Bachelor Nation facts, revealing about her first kiss on the show:
First kiss was Leo, which no one saw!
What?! We've barely seen any footage of Leo Dottavio and his luscious locks since Episode 1, and now we find out we were denied seeing a Tarzan-esque kiss?
Luckily, ABC often posts photos of moments cut from episodes on its press site, and a picture capturing the Minnesota publicist's intimate cuddle with Leo is included there.
Whew. That looks like some true Fabio-style romance. All the photo needs is an embossed title about a duke and his lady and we'd have a perfect romance novel cover. If this kiss was left on the cutting room floor, can we assume that Leo has also told Becca about some of the less flattering roles on his acting resume?
I think it's safe to say that because of his hair and the humor he showed early in the season, Leo isn't in danger of becoming a Matt or Adam a la Rachel Lindsay's season. However, unless he gets some screen time in the next few weeks, the Bachelor Nation pool of forgettability could capture him. Don't worry, Leo, that's when Bachelor in Paradise comes in and saves your chance of getting Instagram sponsorships!
Meanwhile, in case you didn't already want to be BFFs with Becca, her Us Weekly interview proved that she's even more relatable to the everyday gal than we thought. She's guilty of going on a Fixer Upper binge every now and then, and Chip and Joanna Gaines are her ideal celebrity couple. Same, girl, same. She said:
I've been watching a lot of HGTV lately, and I just love Chip and Joanna Gaines. I mean, first of all, they are such a solid couple, it seems like. And they have cute kids. They seem like they still have their morals. And they really have the things that are important to them still in their lives. But I mean, they're a power couple. I want them to come decorate my house.
I'm down for a Bachelorette and Fixer Upper crossover any day, ABC.
We'll have to wait and see if Leo gets his moment in the spotlight later this season, but if Becca's into the rugged carpenter look, I think he can definitely pull off the Chip Gaines style of a baseball hat and messy flannel.
The Bachelorette returns on Monday, July 2, at 8 p.m. ET.