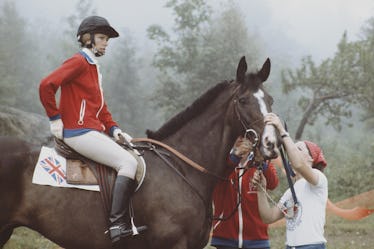 'The Crown' Season 3 Just Cast The Queen's Only Daughter & She's Perfection
Getty Images/Getty Images Sport/Getty Images
Filming for The Crown Season 3 begins next month, after a lengthy delay over recasting the major characters of the show. This is the most delicate time in the show's process, as the production is literally recasting everyone from the top down, rather than age up the actors who were already playing the main adult roles of Queen Elizabeth, Princess Margaret, and Prince Philip. But beyond the main three, there's also casting adults for the first time in the roles of Elizabeth's older children, Charles and Anne. Who plays Princess Anne in The Crown Season 3?
The time jump is going to be jarring when the show returns, even though it will only be a year or so on from when viewers left our characters. As much as fans loved Claire Foy as the Queen, she doesn't look like a woman in her forties who has had four children when The Crown Season 2 draws to a close, and Matt Smith looks barely 35 as Philip, let alone his supposed age of 45.
Then there are the children. Charles and Anne were played by children in Season 2. Anne, in particular, was played by the 12-year-old Lyla Barrett-Rye. When we return, supposedly a year later, she'll be 14, and played by Doherty, an actress in her mid-20s, but most likely to be styled to pass for her mid-teens.
For those not familiar with royal family history, Anne is Elizabeth's only daughter, her second oldest after Charles. She was born in 1950, not long before her mother ascended the throne, and was second in line to the throne before her mother had two more boys, Andrew and Edward, as we saw in Season 2.
Freed from having to act as the "spare" after her younger brothers were born, the teenage Anne was freer than most in her position once she finished boarding school, getting very seriously into horseback riding. She was an award-winning rider, winning the European Eventing Championship, as well as completing seriously with the competed with the British Eventing Team. In 1976, she even competed as part of the UK Horseback Riding team in the Olympic Games in Montreal.
Horseback riding is how she met her first husband, Mark Phillips, in 1968. He too was an equestrian. They married in 1973 and went on to have two kids (Peter and Zara) before divorcing in 1989.
But before this, Anne was seriously dating someone else, a man known as Andrew Parker-Bowles. If that last name rings a bell it should.
Most people know Camilla Parker-Bowles as first the mistress, and now the second wife, of Prince Charles. But back in the early 1970s, when she was still Camilla Shand, she and Charles were together and supposedly in love.
But rumor has it the Queen Mother felt Camilla was completely unsuitable for Charles because she was three years older than him, and raised Catholic. (Funny, I know a prince who just married a woman who was three years older than him and raised Catholic too. Must run in the family.) Supposedly, when Charles left for his stint in the Navy, the Queen Mother told Camilla she should do herself a favor and not wait for him to return in hopes of marrying. (Whether or not this happened has never been confirmed though.)
What history records is this: In 1973, while Charles was away, Camilla and Andrew got married in July, less than two months after Princess Anne announced her engagement to Phillips. Camilla and Andrew had known each other for years and dated casually before he met Princess Anne, so at the time it was presented as the two of them "reconciling." Both Anne and the Queen Mother are said to have attended the ceremony. Charles came back for Anne's wedding to find his girlfriend had gotten married while he was gone. Awkward.
All this will be part of the coming season, which covers the years 1965-1974. It will be interesting to see how the show plays this quadrilateral palace romance.