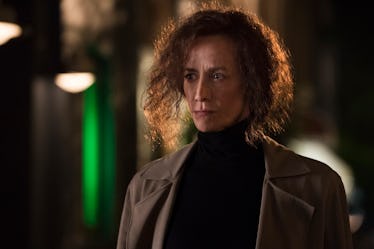 'Jessica Jones' Has A Major New Character & The Actress Who Plays Her Might Look Familiar
Netflix
If you've already binged all of Jessica Jones Season 2 on Netflix, then you know there's a major reveal in Episode 7. After plenty of drama (and some unnecessary filler plot), Netflix finally revealed that Jessica Jones' mom Alisa is the new Big Bad, the elusive figure who's been setting up Jessica for murder. Alisa is a fascinating villain, but I'm more interested in the woman behind the character. So, who plays Jessica Jones' mom in Season 2? That honor falls to Janet McTeer, a veteran British actress who's stealing the show on the Marvel drama.
Throughout Season 2, McTeer captivates as Alisa, who fans quickly learn has an equally complicated relationship with the IGH team as her daughter. For years, Jessica thought that her mother died in the car crash that gave her powers, but in Episode 7, it's revealed that Alisa survived with extensive injuries and was taken to IGH for treatment. Flash forward five years, and Alisa is living as a lab rat under IGH's control, with Dr. Karl performing cruel experiments on her body. Alisa still has no idea that Jessica survived the car crash (Dr. Karl never told her), and she begins to believe that she really is the kind of monster Dr. Karl says she is, leading her to kill people for the deranged doctor. It's a difficult episode for any actor — the constant ups and downs, the fine line between victim and villain — but McTeer handles the challenge with serious skill.
Before joining the Jessica Jones cast, McTeer was best known for her roles in major theater productions and supporting roles in TV and movies. In 1997, McTeer won practically every major theater award (including a Tony for Best Actress) for her performance in A Doll's House. Two years later, in 1999, she was nominated for an Oscar and won the Golden Globe for Best Actress in a Comedy for her work in Tumbleweeds, a story about a single mother and her daughter. More recently, McTeer worked alongside Glenn Close on the final season of Damages and appeared in major movies like Albert Nobbs and Maleficent (as a voice actor). As if that weren't impressive enough, McTeer was also appointed to the Order of the British Empire in 2008 for her contributions to British society. With a resume as long and varied as McTeer's, the choice to cast her in the complicated role of Alisa Jones must have been a no brainer for Netflix.
If you think Alisa Jones looks a little bit familiar, you'd be right: McTeer also appeared in the second and third Divergent Series movies (Insurgent and Allegiant) and Me Before You, two projects that are a little more mainstream than her previous ones. In the Divergent Series, McTeer plays Edith Prior, a scientist who appears via video to explain that the people of Chicago are sealed off from the rest of the world and that it's up to the Divergents to save them. In Me Before You — the Emilia Clarke and Sam Claflin movie basically engineered to make me sob — McTeer plays Camilla Traynor, Will's mom. McTeer plays a major role in the film: Camilla convinces Will to live six more months before ending his life, giving Will and Louisa's relationship a chance to bloom (and my heart a chance to break).
McTeer is undoubtedly a major star, but as fans have seen, appearing in a Marvel series can take an actor's fame to a whole new level. After killing it — and killing everyone in her path — as Alisa on Jessica Jones, it's safe to say that there's nowhere to go but up for Janet McTeer.