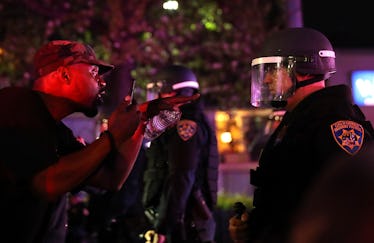 A Woman Was Injured By A Sheriff Car While Protesting Police Brutality
Justin Sullivan/Getty Images News/Getty Images
In what is now a grisly familiar cycle in America, people are again taking to the streets to call attention to suspicious deaths of unarmed black men in clashes with police and/or in police custody, the latest of which is under scrutiny in Sacramento, California. Two weeks after police shot and killed Stephon Clark, a 22-year-old unarmed black man, in his grandparents' backyard, protests continued to envelop the city of Sacramento. But who is Wanda Cleveland? She was injured on Saturday, March 31, during a protest over Clark's life after allegedly being struck by a police cruiser attempting to navigate crowds.
Clark was shot and killed on March 18 by two officers of the Sacramento Police Department who were searching for a suspect who was breaking windows in the area. They confronted Clark, whom they found in the yard of his grandmother's house, where he resided, and believed he was armed. The Sacramento police department and district attorney's office are conducting investigations on the killing, and Clark's family has been calling for charges against the officers.
After being injured in a protest for Clark on Saturday, Cleveland, 61, told a reporter from The Washington Post from her hospital bed in the emergency room that she wanted to know what the alleged driver was thinking. "Is my life not that important?"
In a news release, Sgt. Shaun Hampton, a spokesman for the Sacramento County Sheriff's Department, said that the police cruiser was damaged by "vandals in the crowd," including "scratches, dents, and a shattered rear window." Hampton added,
As protesters approached both of the marked vehicles, they began yelling while pounding and kicking the vehicles' exterior. As one of the Sheriff's Deputies was driving, a collision occurred involving the Sheriff's patrol vehicle and a protester who was walking in the roadway ... the patrol vehicle was traveling at slow speeds ... the Sacramento County Sheriff's Department is conducting an internal review of the incident and the California Highway Patrol is investigating the collision.
Sacramento Police Chief Daniel Hahn announced on March 27 that the California Department of Justice would provide independent oversight in the investigation into the shooting of Clark. Charges have not yet been filed.
Cleveland, a former bus driver and para-educator in the Elk Grove school district, is reportedly a well-known social activist in Sacramento, as she frequently attends local government meetings and hearings, according to The Sacramento Bee. Cleveland has told the City Council that she is friends with many in the homeless community and is emphatic about ending the city's anti-camping ordinance, which she says criminalizes the homeless, per the Bee.
She was also a vocal supporter of a local activist who threw a pie at former Mayor Kevin Johnson's face in 2016 as an act of protest for Johnson's perceived shortcomings in handling Sacramento's homelessness problem — an altercation that got national media attention. The activist, Sean Thompson, was hit with several misdemeanor assault charges, but took a plea deal to avoid jail time. According to the Bee, she has worn a t-shirt to council meetings with a picture of a coconut cream pie on it, referencing the flavor of pie the activist used.
Cleveland herself was arrested in October 2015 when she and another woman became combative during a city council meeting, according to KCRA.
Phuong Le, a friend of Cleveland's who witnessed the alleged collision on Saturday, reportedly rushed to Cleveland and supported her head until paramedics arrived. "He was really upset, and he accelerated," Le alleged to Post reporters about the unidentified police officer. "He didn't get everyone to comply and move, so he just hit her."
Video of the alleged incident was widely circulated on social media over the weekend. In longer versions of it, a police officer can be heard allegedly asking demonstrators to move clear of the car while flashing his lights. A woman can allegedly be seen crossing in front of the car moments before it accelerated, struck her, and peeled away from the scene. Cleveland tumbled away from the wheels as the car sped away. The Post reported that she was treated at an area hospital for injuries to her arm and back of the head and later released.
Protests over the police killing of Clark intensified in the last several days after Clark's family commissioned and released an autopsy report on March 30, which raised questions about police's account of the shooting. That report found that police fired 20 rounds at Clark — eight of which hit his body; seven of which, from behind. The autopsy further complicates statements that police made about the altercation, as the officers indicated that Clark "turned and advanced towards the officers while holding an object which was extended in front of him."
Clark's family, along with the doctor who conducted the autopsy, held a press conference on March 30.
"Each and every one of the wounds independently possessed a fatal capacity," said Pathologist Bennet Omalu, who performed the autopsy, at a press conference last week. Elite Daily reached out to Sacramento police for comment on the autopsy, but did not hear back at the time of publication.
"They didn't have to kill him like that," said Sequita Thompson, Clark's grandmother, fighting back tears during a March 26 press conference. "They didn't have to shoot him that many times ... I just want justice for my grandson." She was inside the house at the time of the shooting.
Sacramento police released body camera and helicopter footage after the fatal shooting, which showed that officers at the scene believed Clark had a gun. It was later revealed that the only object in Clark's possession was his cell phone, according to published reports.
Stevante Clark, Stephon's brother, described Stephon's sense of humor and devotion to his children in an impassioned March 24 interview with CNN, and said that he was thrilled to see such support from their community. "I'm so proud of Sacramento," Stevante said. Demonstrations are expected to continue as the police's internal investigation unfolds.