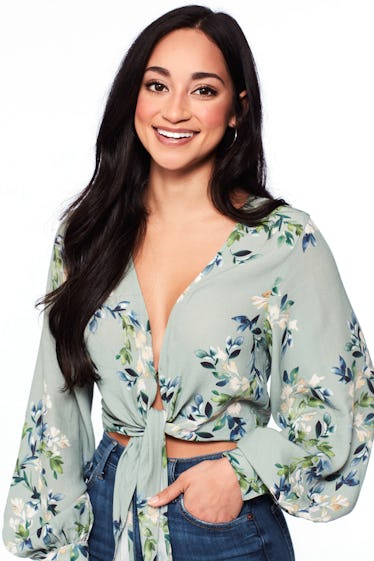 Here's Everything Bachelor Nation Should Know About Victoria F.
ABC/Maarten de Boer
Dating on The Bachelor is unlike any other romantic experience. Not only do the women on the show need to form a connection with the lead, but they also need to make sure they stand out among dozens of other women. It's one aspect that stressed out Victoria F. on The Bachelor in the first episode of the season. Luckily, she probably doesn't have much to worry about, because she is definitely making her mark.
When Victoria Fuller arrived at the Bachelor Mansion to fight for Peter Weber's heart, she made it clear she didn't want to be lost in the crowd of contestants. Since there are two Victorias this season, she'll be known as Victoria F., which is something she wasn't too happy about. So, she tried to make her presence memorable in other ways. When she made her limo entrance, she told Peter an X-rated joke about her dry sense of humor. It might not have been the biggest moment of Night 1, but it was at least enough for her to earn a rose, so Bachelor Nation will certainly be seeing more of her this season.
The 25-year-old medical sales rep and part-time yoga studio employee from Virginia Beach, Virginia, is "very tied to her local community." She graduated from Old Dominion University in 2015 with a degree in economics, loves country music, and is especially close to her grandma, meaning she could understand Peter's closeness with his tight-knit family.
Victoria F. is also deeply devoted to her black lab Buxton, at least according to the many, many Instagram posts of him. In fact, in one Instagram post, Victoria F. wrote, "On my best days & especially on my worst days I look to a friend. The best friend I've ever had in my life," and posted a picture of her canine bud.
Another thing fans can glean from Victoria F.'s Instagram (and some spoiler-y rumors making their rounds on the internet), is that there's going to be a bit of scandal surrounding Victoria F during Peter's season. She shut the rumors down on social media (without actually saying what the rumors are), but suffice it to say, audiences will likely see quite a bit of drama from her as the season progresses.
Season 24 of The Bachelor continues on Monday, Jan. 13, at 8 p.m. ET on ABC.