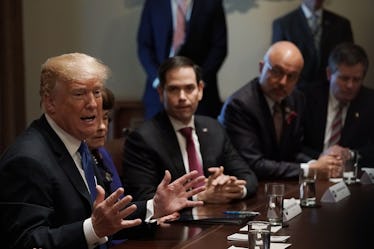 Trump Is Meeting About Video Games & Gun Violence & People Are Upset Over The Guest List
Alex Wong/Getty Images News/Getty Images
On Thursday, March 8, President Donald trump is scheduled to host a meeting that focuses on whether there is a link between video games that depict violence and violent crimes in America. The meeting has been reported by multiple outlets like CNN and The Washington Post as one that could get ugly. The names on the list of who Trump is meeting with about video games goes a long way in explaining why the event has potential to be contentious.
Among those invited to the White House are Robert Altman, the CEO of ZeniMax, which owns a subsidiary that produces the Fallout video game series. President Trump's brother, Robert Trump, sits on the board of ZeniMax, according to Polygon. Robert is not among the reported list of invitees, however. Also in attendance will be Strauss Zelnick, CEO of Take-Two, the makers of the popular Grand Theft Auto game series. A third video game industry leader, Mike Gallagher, will be at the meeting. Gallagher is the preside of the Entertainment Software Association, which lobbies in Washington D.C. on behalf of the industry, according to The Washington Post.
Opposite Altman, Zelnick, and Gallagher at the meeting will be critics of the video game industry. Those critics include Rep. Vicky Hartzler (R-MO). As Polygon points out, Hartzler, an opponent of gun control, has written in the past about how discussing factors like violence in video games is needed in response to mass shootings. After the 2012 shooting at Sandy Hook Elementary School in Connecticut, Hartzler wrote in an op-ed for Politico,
Banning guns isn't the answer to preventing violence any more than banning cars would be the answer to preventing people from being killed in car accidents. The cause, not the tool, should be the focus. We must have a meaningful conversation about mental health issues and other possible cultural and societal contributors to violent behavior, such as violence in video games.
Dave Grossman, a retired army lieutenant, will also be at the White House meeting. In January 2013, Grossman wrote an op-ed about video games in Variety. Like Hartzler, Grossman's op-ed was written in response to the shooting at Sandy Hook and called violent video games "murder simulators."
"Bottom line: From a military and law enforcement perspective, violent videogames are "murder simulators" that train kids to kill," Grossman wrote. "They act just like police and military simulators, providing conditioned responses, killing skills and desensitization, except they are inflicted on children without the discipline of military and police training."
The White House has scheduled the event to "discuss violent video-game exposure and the correlation to aggression and desensitization in children," according to CNN's Jake Tapper, who tweeted a list of expected attendees.
The guest list has frustrated many people — as has the White House's emphasis on video games instead of on gun control.
"As we continue to work towards creating school safety programs that protect all children, the president will be meeting with video game industry leaders and Members of Congress to discuss violent video-game exposure and the correlation to aggression and desensitization in children," a White House spokeswoman told The Washington Post. "This meeting will be the first of many with industry leaders to discuss this important issue."
Reports of the meeting on violent video games come after President Trump highlighted the game industry as a factor that should be discussed within the national conversation on gun violence.
"We have to look at the internet because a lot of bad things are happening to young kids and young minds and their minds are being formed," Trump said. "And also video games. I'm hearing more and more people say the level of violence on video games is really shaping young people's thoughts."
Whether the meeting sparks a series of events that leads to action remains to be seen. For now, it looks more likely to result in a contentious event.