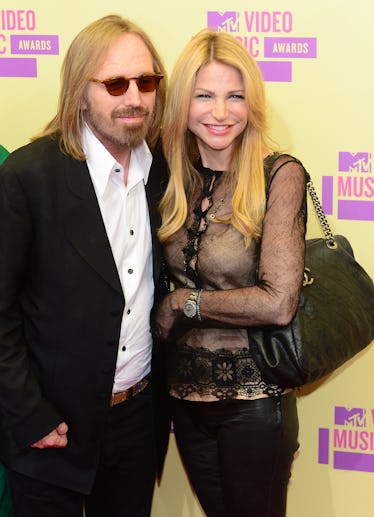 Tom Petty's Wife Was A Major Influence On His Life And Work
FREDERIC J. BROWN/AFP/Getty Images
The legendary musician Tom Petty went into cardiac arrest on Sunday, Oct. 1 after being found unconscious in his Malibu home Sunday night. The 66-year-old musician was taken to UCLA Santa Monica hospital and was put on life support. Petty has kept much of private life to himself, including his second marriage to Dana York, but now fans are wondering, who is Tom Petty's wife?
UPDATE: At 4:35 p.m. EST, TMZ reported that Petty is "is not expected to live throughout the day, but he's still clinging to life." The LAPD and Los Angeles Sheriff's Department declined to comment to Elite Daily. The LAPD has since tweeted:
(1/2)The LAPD has no information about the passing of singer Tom Petty. Initial information was [sic] inadvertantly provided to some media sources
(2/2) However, the LAPD has no investigative role in this matter. We apologize for any inconvenience in this reporting.
EARLIER: According to The Daily Mail, Petty met York at a concert in Texas in 1991, but the two didn't reconnect until 1996 when her divorce was finalized. Petty was previously married to Jane Benyo for 22 years years, right before his musical career kicked off, but the pair got a divorce in 1996.
According to Rolling Stone, Petty and York got married on June 3, 2001. Their "low-key ceremony" came after two sold-out shows at the Hard Rock Hotel in Las Vegas, and was attended by "a few close family and friends."
Petty found his way to heroin during the lowest point of his career, according to Petty: The Biography by Warren Zanes. FrostSnow describes Dana York as a "saving grace" for Petty during his drug addiction. Petty reportedly did not want York to know about his drug use, so he hid it from her. Despite the hiding, York ended up saving his life, Petty said, according to the Daily Mail and the Zanes biography. Petty allegedly admitted to a therapist that he was a drug addict during a hospitalization, and York waited for him while he dealt with his addiction.
Petty's career took off in the 1970s with his band, Tom Petty and the Heartbreakers. The group put multiple hit songs, including "American Girl," "Free Fallin'," "Stop Draggin' My Heart Around," "Breakdown," and "Listen to Her Heart." The band was also inducted into the Rock and Roll Hall of Fame in 2002. News of the musician's cardiac arrest hospitalization inspired many heartfelt responses from musicians on Twitter who knew him and were influenced by his music.
In the Zanes autobiography, Petty said his longtime friend and fellow musician Stevie Nicks had an "intense, fiery" relationship with him.
Though Petty and York were married for 16 years, the couple never had any children together. Petty's two daughters, Adria and AnnaKim Violette come from his ex-wife, Benyo. Adria Petty is a successful film director, and AnnaKim Violette is an artist.
As of 2014, Petty and York seemed as strong as ever, with Petty telling Billboard that his romantic life was perfectly stable, which meant less romantic angst in the music he was creating. "I don't write as many love songs as I used to. I'm not in any love crisis at the moment."
The news of his hospitalization came as a shock to many, considering Petty was just onstage performing last week. Petty had just closed out his six month-long North American tour after performing for three nights a Hollywood Bowl in Los Angeles, California on Monday Sept. 25. The last concert concluded the Tom Petty and the Heartbreakers' 40th anniversary tour, which commemorated the release of their self-titled first album in 1976.
The Sept. 25 show may likely be known as his last ever performance, with recovery chances from his cardiac arrest being reportedly slim. Tom Petty's legacy will live on as being one of the greatest and most influential musicians of his time.