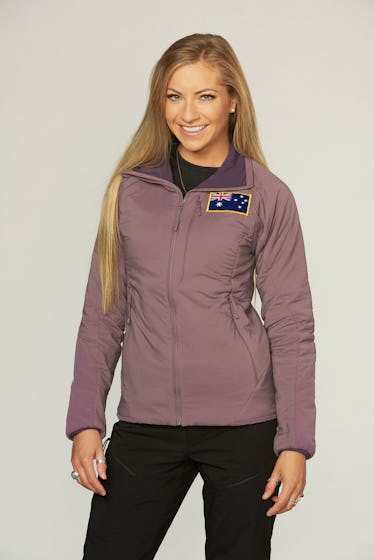 This Australian Is Ready For The 'Bachelor Winter Games' & We're Pumped To Meet Her
ABC
You can get eliminated early on and still make a name for yourself on The Bachelor. Case in point: Tiffany Scanlon. The former Bachelor Australia contestant was sent home in the third episode of the show's fourth season, but now she's headed to the U.S. for The Bachelor's latest spin-off. So, who is Tiffany on Bachelor Winter Games? The Aussie blonde has got Bachelor Nation's (and Bachelor World's) attention.
Let's take it back to where Tiffany's reality TV journey all began... In 2016, Tiffany competed to win the heart of rope access technician Richie Strahan, and she even earned the coveted first impression rose in the premiere. That honor wasn't enough to keep her on for much longer — Richie cut her time short in week 3 when she was eliminated alongside two other women. Fortunately for her, it doesn't sound like she was very interested in him. She told PopSugar Australia following her exit, "No, I don't think I was there long enough to be invested in him in anyway. While I would have loved to have had a date with Richie to get to know him better, I made the most of the time I was there." Good to know.
But Tiffany's Bachelor story didn't end there. Friendship blossomed into romance when she found love with a fellow contestant from Richie's season, Megan Marx. The co-competitors went public with their relationship in October of 2016 after realizing their feelings on a Bali vacation. Marx even took to Instagram that month, discussing their bond in a lengthy birthday message to Tiffany. Some of it read,
I met Tiffany in a very strange situation. Well... we were kind of dating the same guy. And it was filmed and put on TV 😂.From that first cocktail party, it was like this instant calibration between souls, as if we had known each other once before. Friendship ripened into something bolder, trust in a very strange situation was formed, and now every adventure we have rivals the other- and continues to make plans for itself.
Despite the sweet social media displays of affection, the pair ended up breaking it off in early 2017. Tiffany blogged about the split on her website, The Tiffany Times, opening up on the so-called "price of fame" she paid after going public with her relationship.
Fast-forward to 2018. Tiffany is now back in the headlines for another reason, as she'll be one of international participants who will be competing on Bachelor Winter Games. The training administrator and travel lover from Perth seems like she'll be bringing serious skills to Vermont. Just look at her planking technique!
Tiffany isn't the only Aussie to rep down under on the series. Bachelorette alum Courtney Dober is also set to compete.
"The international contestants were interesting because we didn't know what to expect going into it... I think that was one of the biggest draws for us, too," Team USA (and notable Bachelorette and BIP alum) Dean Unglert explained of the Winter Games experience.
"At first I thought we were going to be cliquey," Ashley Iaconetti noted, regarding her expectations for the social dynamic. "Us Americans, we're all friends in real life. I hang out with Dean and Ben on a weekly basis, if not more, so I can't imagine us letting people into this clique. But it was pretty instantaneous, you knew that everyone was going to get along. Because we share that similar experience of all being on Bachelor shows there's something to talk about right off the bat."
Ah, The Bachelor works its unique magic again, now uniting people from all over the globe.
Bachelor Winter Games premieres Tuesday, Feb. 13 at 8 p.m. ET on ABC. We look forward to finally seeing Tiffany and the rest of the international Bach-testants in action.