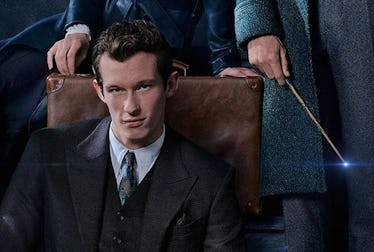 This New 'Fantastic Beasts 2' Clips Shows Serious Sibling Rivalry With Newt & Theseus
Warner Brothers
Fantastic Beasts and Where To Find Them introduced audiences to Newt Scamander, author of the textbook by the same name. But when viewers met Newt, he was far from home, in New York City. Everything fans learned about his family and friends back home was strictly secondhand. The new Fantastic Beasts film, The Crimes of Grindelwald, is set in the UK and France, giving them a chance to actually meet the rest of the Scamander clan, including Newt's brother, Theseus. But who is Theseus in Fantastic Beasts exactly? Is he a academic nerd like his brother?
Turns out Theseus and Newt are nothing alike in their personalities. Newt is an animal and plant enthusiast. He prefers them to the company of other people. His favorite thing is to lock himself away studying and writing about all the magical creatures in the universe. Theseus is a man of action. He's a highly trained Auror, whose feats of daring during the First World War made him a hero of the magical world. (Yes, the magical world was involved in what Muggle history books refer to as World War I. You'd know this if you read Hogwarts: A History.)
Unfortunately, Theseus' position in the Ministry of Magic has put him on one side of the fight. Newt's friendship with Dumbledore has put him on the other. You can see Theseus here in the opening scene in the first trailer. He's part of the group of Aurors sent by the Ministry to question Dumbledore about his relationship with Newt.
Theseus does not look pleased in this scene. But then again, how would anyone feel upon hearing rumors in the Ministry their little brother might be manipulated by Dumbledore into getting himself into trouble? Especially if his little brother is not a war hero, but the kind of kid who spent the First World War working with Ukrainian Ironbelly Dragons, and never saw action himself.
But though fans might hope Theseus' attitude in this scene was driven by worry for his sibling, it seems the two of them have had a long rivalry. For instance, when Newt is in America, he talks about Leta Lestrange as if she's a potential love interest. But according to the character synopsis for Crimes of Grindelwald, when Newt returns to the UK, he finds her engaged to marry Theseus.
The two brothers have a few issues to work out. In the newest Crimes of Grindelwald clip, fans are treated to the two of them doing just that.
The synopsis for the forthcoming movie says "Lines are drawn as love and loyalty are tested, even among the truest friends and family, in an increasingly divided world." Newt and Theseus are an example of family members finding themselves drawn to opposite sides in the coming battle. But will Theseus figure out Newt is actually on the right side of the fight and come round? Or will the two of them square off again?
Fantastic Beasts: The Crimes of Grindelwald arrives in theaters on Friday, Nov. 16, 2018.