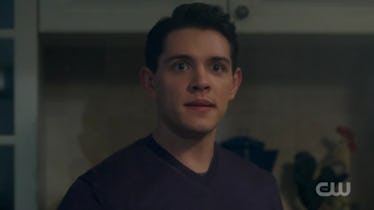 There's A New Mystery Man On 'Riverdale,' Here's Everything You Need To Know
The CW
If you've been keeping up with Riverdale this season, then you know each week our fave small town gets more and more mysterious. For weeks now we've been dealing with the creepy Black Hood toying with us, attacking people, and harassing Betty, but it looks like there is a new mystery man in town. That's right, just when you though this show couldn't get any darker, this week's episode, "Death Proof," introduces us to the Sugar Man. Of course, like everyone in Riverdale, the question on all of our minds at home is: Who is the Sugar Man?
Well, simply put, the Sugar Man is the drug dealer responsible for Riverdale's "Jingle Jangle" infestation. We all know that the one thing plaguing the wholesome town of Riverdale right now (aside from, you know, a masked murderer) is the JJ. It's everywhere and causing a whole lot of drama (as if Riverdale was in some shortage).
Because of it's popularity, and the assumption that the Serpents are responsible for its distribution, there is a huge raid at South Side High, which puts a lot of heat on the mystery Sugar Man. Thanks to Cheryl Blossom's persistent sleuth work, though, we learn a whole lot about who is behind the pixie sticks filled with crank.
If you're a diehard fan of the show, then you might remember that wayyyyyyy back in August, the show's creator, Roberto Aguirre-Sacasa shared an image of the Sugar Man, Cheryl, and Jason Blossom on his Twitter with the caption, "Lock your doors, #Riverdale, the Sugar Man is coming..." Naturally, none of us knew what this meant at the time — many even assumed it was a hint at a Halloween special; clearly, that is not the case since the Sugar Man is just now being brought to our attention, weeks after Halloween.
The same picture appeared in Episode 6, letting us know that the Sugar Man has been a longstanding, dark presence in Riverdale. The picture was drawn by Cheryl when she was a kid, and the story behind the Sugar Man says that he was a friend of Clifford Blossom's, and when Cheryl and Jason were acting up, their mother would tell them the Sugar Man was coming to get them. As you can see from the picture, the Sugar Man has always been a terrifying image for Cheryl, but, now that she's grown, she demands answers about his true identity.
In typical Cheryl fashion, she is persistent, using hush money from the St. Clairs to force her mother to reveal who the Sugar Man is; desperate for the money (which she throws away anyway?) Mrs. Blossom tells Cheryl that the Sugar Man is actually Jughead's English Lit teacher at South Side High, Mr. Phillips.
Before you take a deep breath, keep in mind that this is Riverdale we're dealing with, so nothing is ever that simple. Mr. Phillips could very well be the Sugar Man, but there's also the possibility that he is just a coverup to conceal the true Sugar Man's identity. Nothing on this show surprises me anymore, especially considering how the show's EP Roberto Aguirre-Sacasa recently told Variety "the show itself is also on a darker journey"; Aguirre-Sacasa said,
The stakes for more of the characters are going to actually be life and death. Archie [KJ Apa] is a really good barometer for the entire show. Because of what happened with Fred in the finale – because he saw his father get shot in Pop's – he's on a darker journey. He's at the heart of the show and is the show's moral compass in a weird way. By virtue of the fact that Archie is on a darker journey, the show itself is also on a darker journey.
I guess we'll just have to take Mrs. Blossom's word for it for now... that doesn't seem like a bad idea at all.
Check out the entire Gen Why series and other videos on Facebook and the Bustle app across Apple TV, Roku, and Amazon Fire TV.