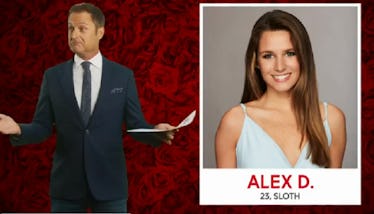 Here's What 'Bachelor' Fans Should Know About The "Sloth" On Colton's Season
ABC
Bachelor Nation is used to seeing wacky job titles among its new contestants, but one woman competing for Colton Underwood's heart may have taken the cake for weirdest job ever. As Chris Harrison announced Colton's upcoming Bachelor contestants on Thursday, Dec. 6, via Facebook live, Alex D. definitely stood out to fans. The 23-year-old brunette listed her occupation as a "sloth." But who really is the sloth on Colton's Bachelor season? She is apparently taking a very slow approach to stealing Colton's attention.
While introducing all 30 contestants, Chris Harrison gave fans a little bit of insight into Alex D.'s pokey profession: "23 years old from Boston, MA, let's just say she has a slow roll into night one, and it has to do with how she comes out of the limo."
As Bachelor Nation knows, there tends to be at least one member from Noah's Arc present on night one. On Season 20, Jojo Fletcher showed up wearing a unicorn mask. During Season 21, Lacey Mark literally rode in on a camel and Alexis Waters' costume sparked the infamous shark vs. dolphin debate. And, most recently, David Ravitz showed up in a chicken costume on Bachelorette Becca's first night at the mansion.
Although these costumes are usually met with eye rolls from other contestants and a stream of "wtf?!" tweets, they almost always cement themselves a spot in Bachelor history.
And, if the newest promo for Colton's season is any indication, fans can expect the claws to (very slowly) come out during night one. Check it out.
There you have it. At 27 seconds, the promo quickly pans over to a woman in a sloth costume.
Based on her Bachelor bio, when she's not slothing around, Alex D. is an account manager for an IT staffing agency.
A New England girl through and through, Alex was born on Cape Cod, went to college at University of Massachusetts and now lives in Boston. When she's not cheering on the Patriots or the Red Sox, she's working as an account manager for an IT staffing agency. Alex talks fast, but tends to move slowly...verrrrrrrrrrry slowly.
Alex D. isn't the only one with a questionable profession vying for Colton's love. There's also Alex B., the 29-year-old "dog rescuer" from Vancouver, Catherine, the 26-year-old DJ from Floria, Erin, the 28-year-old self-proclaimed "Cinderella" from Dallas, 22-year-old Heather, who's job is just "never been kissed," and not one, but two pageant queens, Caelynn, 23, and Hannah, 23.
Colton was one of the most talked about contestants on Becca's season of The Bachelorette. Ultimately, his past relationship with Tia worried Becca and he was sent home before the Fantasy Suites. He then headed to Paradise, where he dated and broke up with Tia.
But now, Colton definitely seems like he's ready for the real deal. As he told Good Morning America, "I'm very excited. Third time is the charm. That's what they say, right? That's what I'm hoping for."
Colton's season of The Bachelor will kick off with a 3-hour premiere on Monday, January 7 on ABC.