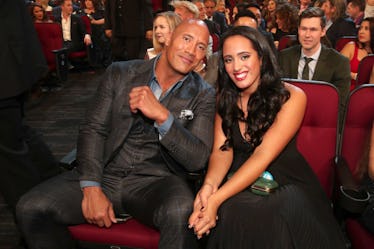 The Rock's Daughter Has A Super Special Role At This Year's Golden Globes
Christopher Polk/Getty Images Entertainment/Getty Images
The Rock is not up for any Golden Globe Awards this year, but the Johnson family will still be well represented at the awards ceremony. Dwayne Johnson's daughter Simone Garcia Johnson is taking the helm as Golden Globes Ambassador at the show on Jan. 7, a new title rebranded from its traditional Miss Golden Globes moniker. In case you don't know much about The Pebble (OK, I don't think she actually goes by that), here are some things you should know about The Rock's daughter Simone Garcia Johnson.
First of all, Simone Garcia Johnson was born on Aug. 14, 2001, which makes her 16 years old right now. She was born during the height of Dwayne Johnson's wrestling career as The Rock, to Johnson's first wife Dany Garcia. Although Johnson and Garcia split up in 2007, it was very amicable: so much so that Garcia continues to be her ex-husband's manager and producing partner to this day.
Although both of her parents are showbiz pros, Simone Garcia Johnson is steering clear of the profession, admitting to The Hollywood Reporter that she does not see herself pursuing an acting or producing career. Instead, Garcia Johnson says she has her eye on New York University for college to study business. But she does say she may follow her famous dad in one respect: wrestling. She has posted about her admiration for women pro wrestlers on a few occasions, and admits that it is something she has thought about doing and wants to pursue. One thing's for sure — she definitely has the genes for it!
Outside of the ring, Simone Garcia Johnson is already garnering some attention as a model, signed to IMG Models. She often shares her modeling shots and some behind the scenes photos from her shoots on Instagram.
And on top of all that, Simone Garcia Johnson also has a famous best friend! Her bestie is none other than Fifth Harmony star Dinah Jane. The pair often take photos and tweet at one another. In fact, it looks like Garcia Johnson is friends with the whole girl group, but her friendship with Jane does seem to be extra special.
As far as what we can expect from Simone Garcia Johnson at the Golden Globes this year, although her title may have changed to Golden Globes Ambassador, the role will still be the same as it has always been. Garcia Johnson will be in charge of handing out the trophies to the big winners of the night, which is obviously an incredibly enviable position. She told Entertainment Tonight that her famous dad Dwayne Johnson has already given her some advice on how to keep her composure around all of the A-listers:
The best piece of advice that my dad gave me was just to have and live in the moment. I'm keeping that in the back of my mind with everything I do on this journey.
Simone Garcia Johnson's mom Dany Garcia also weighed in on her daughter's role in the awards ceremony, pointing out that it is an exciting platform for her daughter to have, especially given her outspoken passion for equal rights at the present moment:
[She's] very passionate about equal rights, about anything that's happening in politics, about her point of views. So, I'm so excited for her to have this platform.
That is another thing that you should know about Simone Garcia Johnson: she is a fierce proponent of the ideals she believes in and not afraid to stand up for them. Recently on her social media, Garcia Johnson has shown her love for the NFL kneeling protests, urged Congress to pass stricter gun control laws, and voiced her support for net neutrality. It seems like the perfect moment in history to help her voice be heard even more.
The 75th Annual Golden Globe Awards will air at 8 p.m. ET on NBC on Jan. 7, 2018.