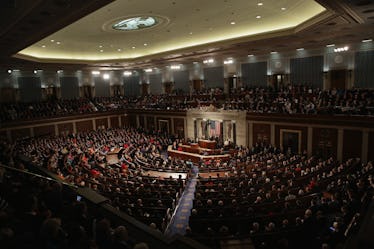 The State Of The Union Designated Survivor Is A Real Thing, & Here's What We Know
Alex Wong/Getty Images News/Getty Images
When majority of important government officials are all set to be gathered in the same location, one person must be separated from the pack. So this year, when President Donald Trump makes his State of the Union address, most of the United States government will be listening to him — except for the designated survivor. If you're anything like me, I know you're wondering: who is the 2018 State of the Union designated survivor?
UPDATE: The designated survivor for the State of the Union is Secretary of Agriculture Sonny Perdue, according to NBC News.
EARLIER: The designated survivor is not just a television show. It is a real thing. I am going to be honest, I never really thought about it until I heard about the ABC series but it makes total sense. If everyone who is everyone in government is going to be congregated in one place, if something happens who will run the country?
The designated survivor must be someone who is eligible to be president, so he or she must be in the presidential line of succession. That individual is then taken to a distant, secure, and undisclosed location when other officials in the line are gathered in one location — like during the inauguration or the State of the Union. The practice of having a designated survivor started during the Cold War in the 1960s where there was fear of a nuclear attack. As of 4 p.m. ET on Jan. 30, however — just a few hours before Trump will deliver the State of the Union speech — there hasn't been a designated survivor announced. The selection isn't expected to be officially announced until just before the speech, according to NBC News.
Trump has, however, selected a designated survivor before. For his February 2017 joint address to Congress, Trump's designated survivor was Department of Veteran Affairs Secretary David Shulkin, according to CNN.
It was an interesting pick.
Shulkin was actually a holdover from the Obama administration, not a Trump appointee. Before serving as the Secretary of Veteran Affairs under Trump, he was the Under Secretary for Veteran Affairs for Health for two years during the Obama administration, from 2015 to 2017. However, Trump's options at the time were limited due to the fact he was waiting for many of his cabinet appointments to be confirmed by the Senate, according to NBC News.
As the Secretary of Veteran Affairs, Shulkin is responsible for helping veterans access much needed services, such as housing, health care, and more. The United States Department of Veteran Affairs is there to provide resources and benefits to those who served the country. Health care, home loans, education and training, life insurance and even funeral costs are something that the department is supposed to help with. But we know that many veterans don't, for whatever reason, have access to these resources or aren't getting them.
Shulkin recently took some heat over a trip to Europe in July of 2017 on what some believed to be the taxpayers dime. According to The Washington Post, Shulkin was there to meet with Danish and British officials about veterans' health issues. However, Shulkin and his wife reportedly took it as a vacation. The couple spent a lot of the time sightseeing, shopping, and touring, as shown by an itinerary posted by the Veteran Affairs department. The Washington Post pointed out that because it was "business" the federal government paid for Shulkin's flight, but also for his wife's. In addition, the government also gave a per-diem reimbursement for meals and such.
This year, Trump has a lot more cabinet options to pick from, however, so controversy or no, it's probably unlikely that Shulkin would be getting that call again. But who knows? If there's one thing we know about this presidency, it's to expect the unexpected.