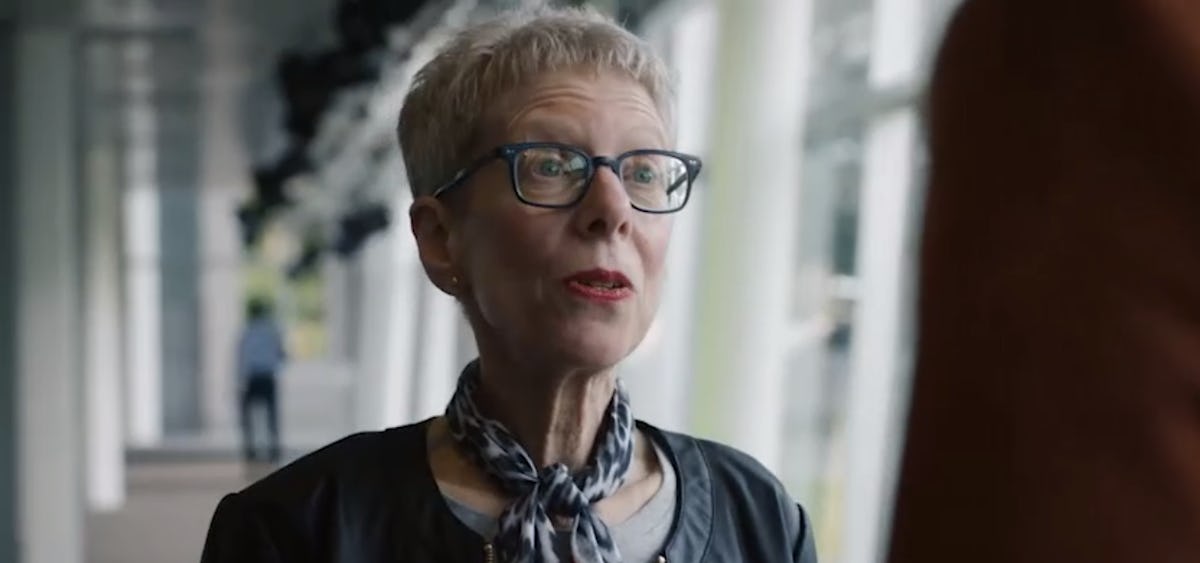 This Real-Life NPR Host Has An Important Cameo On This Week's 'This Is Us'
NBC
On This Is Us, Kevin has finally reached his big break in the acting industry with a starring role in a Ron Howard movie about the Vietnam War. After his work made his family teary-eyed at the movie premiere, Kevin's busy press tour launched, including a radio interview with a real-life NPR personality who a fangirling Zoe tagged along to meet. Who is Terry Gross on This Is Us? The illustrious NPR host planted the seeds of Kevin's quest to learn more about Jack's time in Vietnam.
Following his romantic gesture in picking up commitment-phobe Zoe from the airport, Kevin brought her along for the interview with NPR's Fresh Air after she clarified that, contrary to Kevin's belief, host Terry Gross was not a man. Gross's reputable status turned out to particularly impress the cynical Zoe, and when she and Kevin met Gross, she asked what helped her find the essence of each interviewee. In a statement that Zoe later repeated to Kevin, Gross said, "I'm a curious person and I try never to underestimate people."
During the interview, Gross probed Kevin about his father's own experience in the Vietnam War. Her questions caused Kevin to realize that apart from Jack not wanting him to play war as a kid, he knows little about what influenced Jack's hesitation to speak about Vietnam. It looks like we have Gross's curiosity to thank for the season's future flashbacks to Jack and his brother Nicky fighting in the war.
Gross's This Is Us appearance was first reported in August, when paparazzi snapped photos of her at Philadelphia's WHYY studio with cast members Justin Hartley and Melanie Liburd. Executive producer Isaac Aptaker told Entertainment Weekly that Gross's cameo was "for all of our NPR fans out there, like us. We're super excited about that. She was so, so cool, and was a fan of the show, which just blew all of our minds."
Hosting the Fresh Air program since 1975, Gross has received several accolades for her work, including a Peabody Award, a Gracie Award, and the Corporation for Public Broadcasting's Edward R. Murrow Award. Known for approaching her interviews with an intelligent and insightful perspective, Gross speaks to prominent figures in the political and cultural fields, and if her TV persona took the time to speak to Kevin, it definitely means that he's broken into an entirely new sphere of fame.
If you're a fan of Gross and her interviews leave you in a musing state of mind, you'll understand why Kevin was fixated on his father's past after speaking with her. Digging through a box of Jack's war mementos that survived the house fire, Kevin was left perplexed about why his dad shielded the Big Three from so much of his past. Using Gross's words to support her point, Zoe offered to help Kevin discover more about Jack's service. In the episode's closing moments, Kevin emailed a veteran whose name he found in wartime letters Jack had received. An elderly man named Mr. Robinson was seen reading Kevin's message, suggesting that we have a full episode of Jack's Vietnam storyline to look forward to soon. And all thanks to the magic of Terry Gross and public radio!
Season 3 of This Is Us continues on Tuesday, Oct. 16, at 9 p.m. ET on NBC.